January 23-24, 2018 | 5:00 PM | New Brunswick, NJ
Join the Clean Earth Team at the LSRPA Site Remediation Conference to learn about what is going on in our industry from the experts. This is an action packed conference filled with information to apply to your remediation projects. Stop by the Clean Earth booth and learn more about our full service soil treatment and recycling solutions in the tri-state area.
"The LSRPA Site Remediation Conference is a two-day, power-packed conference being held on January 23rd - 24th, 2018 in New Brunswick, New Jersey. Join your colleagues, peers, clients, service providers, and the New Jersey LSRPA for an incredible lineup of amazing new courses, dynamic guest speakers, and awesome entertainment. You don't want to miss it!

What is special about January 2018? The majority of LSRPs need to obtain their continuing education credits to renew their licenses in 2018. To make getting those CECs easy for you, we have lots of continuing education courses under one roof! We're even offering some evening courses on January 23, for those of you who can't dedicate the regular work-day to education.

At no other event will you experience such high-value education and training while having so much fun and enhancing your relationships with other professionals in your field. Our commitment is to offer you a wonderful opportunity to network with other environmental professionals while providing the convenience of adding much needed Ethics, Technical and Regulatory CECs to your roster for license renewal."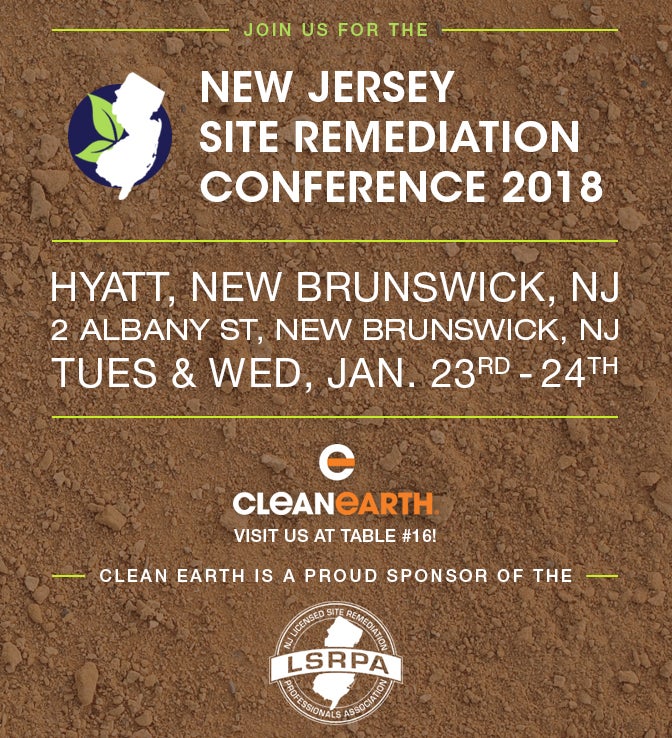 Alt Tag:
CleanEarth_LSRPAConference_SM_Ad_2018
Title Tag:
CleanEarth_LSRPAConference_SM_Ad_2018
New Jersey Licensed Site Remediation Professionals Association, www.lsrpa.org/index.php?option=com_mc&view=mc&mcid=72&eventId=530967&orgId=njlsrpa.