About our service
Benefits for your business and the world around us
Clean Earth operates a network of full-service soil treatment, disposal and recycling facilities along the east coast.  Combining our various technologies and capabilities, with our strategic processing facility locations, Clean Earth is able to provide our customers with multiple recycling options for various types of contaminated soils. 
Capabilities
Service Solutions as Unique as You are
From initial sampling to maintaining waste disposal records, we understand how challenging it can be to manage the multitude of moving parts throughout the course of a waste remediation project. That's why we take an especially supportive approach from the start. Our full suite of capabilities and services allows us to customize soil remediation projects so that they will work for your budget and timeline and also safe-guard our environment.
Beneficial Reuse & Recycling 

Commercial & Industrial Fill

Environmental Services 

Waste Classification Guidance

Approval Package Reviews & Preparation

Excavation, Material, & Disposal Plans

What We Handle

MGP - Coal Tar Contaminated Soil

PCB - TSCA & Non-TSCA Contaminated Soil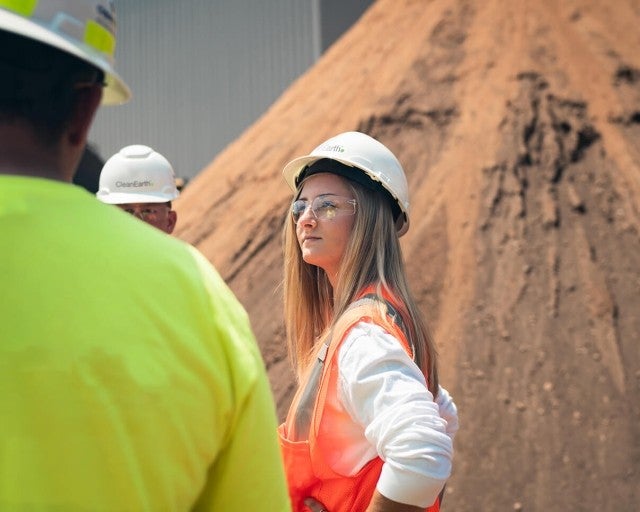 Beneficial Reuse Options for Soil
Outside of our portfolio of soil treatment facilities, Clean Earth offers a number of Beneficial Use (BU) options for soil recycling. These BU sites can be brownfield sites or landfills undergoing closure and redevelopment.

Soil is imported to these sites for use as fill and grading material, in conjunction with its state agency approved remedial action work plans or landfill closure plans. Each site offers its own unique acceptance criteria for imported fill and is overseen by a third-party engineer responsible for review of each potential source of fill. Upon review of data and an assessment that soil is suitable for a BU site, Clean Earth will match the export material with appropriate BU sites.

The major driver that affects whether soil is sent to the traditional soil treatment facility for recycling versus a BU site, is the chemical and physical properties of the soil to be removed. In New Jersey, BU soil will normally fall into a category of residential or non-residential fill, relative to applicable state clean-up criteria. BU soil does not require treatment and is therefore taken directly from the source to the chosen BU site. Aside from meeting the permit acceptance criteria, BU soil must also meet geotechnical specification for compaction or slope stability. BU options offer the lowest cost of disposal option because the material is directly placed into the site and does not receive additional treatment.

Clean Earth's Beneficial Use options offer another avenue for our clients to save money, while utilizing a secure, state-permitted and approved disposal option.
Industries
Trusted in all sectors
Resources
Read the latest from Clean Earth
Take the next step
Clean Earth is the right choice, now more than ever. 
Reach out to our team of experts today.