Sustainable solutions for some of the world's fastest-growing waste streams.
Electronic waste, or E-waste, is a catch-all term to describe the waste created when electronic devices or components thereof are discarded. These often times contain dangerous chemicals such as heavy metals. These products are being produced at rates faster than ever before, creating more and more electronic waste each year.
Before they are thrown out, we rely on these products for our productivity, comfort, security, and convenience. When these products are no longer useful, it's imperative that they be handled in a responsible way that is legally compliant and reduces their potential environmental impact.
Types of Electronic Waste we accept: 
Monitors and Televisions (LCDs, LEDs, CRTs)

Telecommunication Equipment

Printers/Copiers/Fax Machines

Other Types of Miscellaneous Electronics (Docking Stations, AC Adapters, Keyboards, Mice)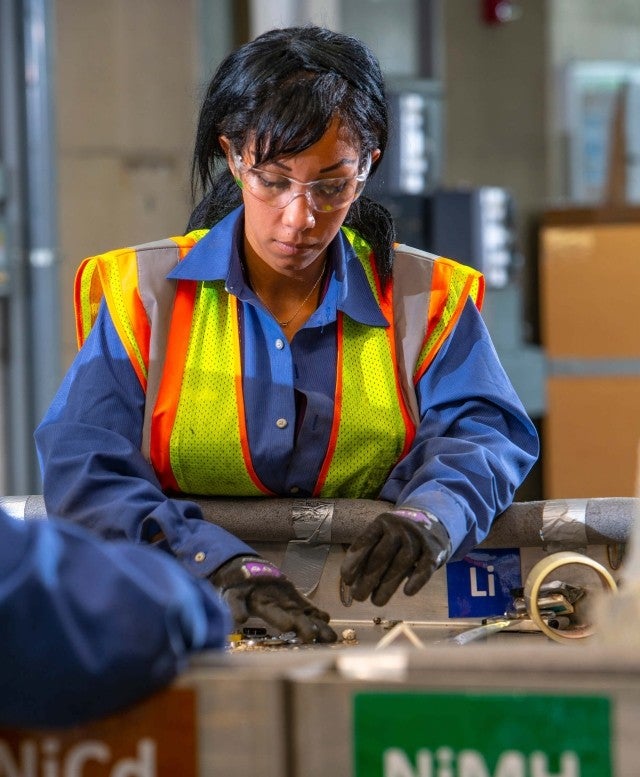 R2/RIOS Certified Electronics Recycler ™ Facilities
We are committed to proper end of life management of electronics containing sensitive data and components hazardous to our environment. We offer an integrated strategy that allows our customers to reduce the amount of waste produced, implement best practices for handling waste on-site, and provide a full range of treatment options to meet specific needs. Each electronics processing facility has the distinct industry designation of being in our R2/RIOS Certified Electronics Recycler ™ facility and has been independently certified to achieve these industry designations.
In addition to fully compliant recycling electronics, we are also well versed in the refurbishment and reuse of electronics, maximizing their useful life. As part of our program to mitigate environmental liability for our customers, we do not landfill or incinerate electronics nor do we export to developing countries.
Take the next step
Clean Earth is the right choice, now more than ever. 
Reach out to our team of experts today.