Facility Type
Electronics Recycling & Data Destruction Facility
Location
7425 Ranco Road
Suite D
Henrico, VA 23228
United States
View google maps
Receiving Hours
8:00 am to 4:30 pm
Monday to Friday
Driver Info
Residential Drop-Off Hours:
2nd Friday of Every Month, 9:00 a.m. - 3:00 p.m.
Hazardous & Non-Hazardous Waste Recycling & Disposal
Richmond, Virginia Electronic Waste Recycling Facility
PLEASE NOTE ALL RESIDENTIAL ELECTRONIC DROP-OFFS AT OUR FACILITIES ARE SUSPENDED UNTIL FURTHER NOTICE. 
Clean Earth's electronic waste recycling facilities are nationally regulated and permitted. We are committed to a green world by helping clients in proper end-of-life management of assets containing sensitive data and components hazardous to our environment. We offer an integrated strategy that allows its clients to reduce the amount of waste produced, implements best practices for handling waste on-site, and provides a full range of treatment options to meet specific needs.
Each Clean Earth electronics processing facility has the distinct industry designation of being an R2/RIOS Certified Electronics Recycler™ facility and has been independently certified to achieve these industry designations.
Each Clean Earth universal and electronic waste recycling facility is fully EPA permitted and complies with all state & federal EPA, OSHA, and DOT Regulations. Clean Earth recognizes that environmental management is one of our highest corporate priorities and conducts all aspects of its business accordingly as responsible stewards of the environment.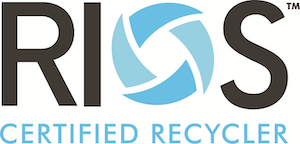 Facility Type 
Electronics Recycling & Data Destruction Facility
Capacity 
375 pallets of electronics, 52 pallets of CRTs, and 160 55-gallon drums of batteries
Acceptable Materials 
All types of electronic waste including but not limited to, circuit boards, keyboards, CRT and flat panel TVs/monitors, computers, laptops and smart phones
Solar Panels including Monocrystalline and Polycrystalline Panels
Processed Material 
All Electronic Waste will be processed into clean commodity streams. 100% of electronics are recycled. Total data destruction for all information containing devices, Remanufacturing and resale of various electronics
Services 
All-inclusive Mail-Back Recycling Program: RecycleKits for Lamps, Batteries, Non-PCB Ballasts, Mercury Devices, and Electronics
Complete electronics recycling Testing and refurbishment. State-of-the-art, comprehensive, electronic asset management tracking capabilities using web-based customized software for customer interaction and monitoring. On-site deinstallation and data destruction services
The highest security data destruction services, including:
Compliance with all Federal Information Security Laws:
HIPAA, Sarbanes-Oxley, FACTA, Graham Leach Bliley Act
Data Shredding:
Hard drives are passed through an on-site shredder, such that all materials are simultaneously degaussed and shredded to 1" by 3" pieces
Hard Drive Sanitization:
Wiped to both NIST 800-88 and DoD 5220.22-M standards
Driving Here
Easy truck access from Interstates 95 and 64