You are here
Clean Earth Launches Exclusive Web-Based Project Management Tool for Customers
Clean Earth Connect - Your Project, Your Data, In Your Hands.
August 29, 2017
Clean Earth Connect is a new, proprietary, web-based tool providing our customers with on-demand, pertinent information about their soil projects' materials moving to Clean Earth facilities for treatment and recycling of contaminated soil.
Clean Earth Connect provides:
Real-time Scale Data
Historical Scale Reports
Digital Copies of Weight Tickets and Manifests
Digital Copies of Invoice Packages
User-driven features such as email alerts and the ability to invite outside users to view project specific information.
And this is just the beginning! A multitude of features will be released which will allow our customers to manage their projects in a more efficient and faster way. Time doesn't slow down and now neither will your data or your projects.
Clean Earth Connect is easily accessible on all mobile and desktop devices anywhere our customers have internet access.
Have a smart phone? You have access.
Have a tablet? You have access.
Have a computer? You have access.
Project managers, consultants, accounting professionals and customer service representatives are just a few of the types of people utilizing Connect every day. Clean Earth Connect has been designed with not only our customer in mind, but our customer's team from the project site, to the office, to sub-contractors. Clean Earth Connect is versatile, efficient, and a time-saver.
In addition, Clean Earth Connect immensely reduces the use of paper, various office supplies, and energy, carrying on our company's vision of providing sustainable solutions from start to finish. Teaming together, our customers and Clean Earth are making full circle sustainable solutions for the construction industry - conserving energy, materials, time, and keeping waste out of landfills through making the smart choice to recycle. And now, it's available at your fingertips!
Join Us Today!
Get what you need now, and register for a Clean Earth Connect account today!
connectsupport@cleanearthinc.com | 888.988.DIRT | connect.cleanearthinc.com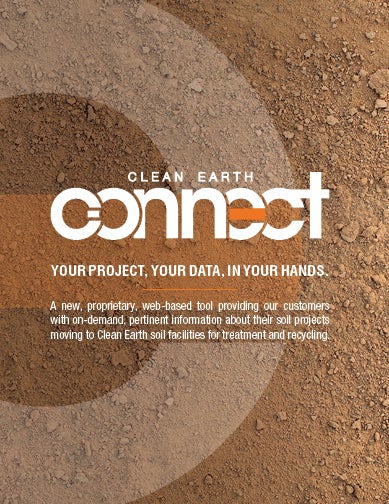 Receive Clean Earth News
Sign Up to receive the latest news about Clean Earth services, solutions, and locations.