Blog
4/20/2022
Clean Earth's Dredge Facility Organizes Collection Event for Ukraine
SHARE
Clean Earth Days, a series of employee-led volunteer events, aims to share and celebrate the Company's mission of recycling and sustainability through community outreach in the month of April. Clean Earth sites across the U.S. are organizing service events as part of this community engagement initiative.
One of the most notable ongoing Clean Earth Day events thus far, was organized by John Huhn, General Manager at Clean Earth's Dredge Facility, in partnership with Hope for Ukraine to collect medical supplies. Founded by Yuriy Bocheko a Ukrainian immigrant, Hope for Ukraine collects and ships necessary first-aid supplies to aid the people in Ukraine.
Since the collection began, Clean Earth has received generous donations from longtime business partners, Taylor Oil Company, and Olympic Glove & Safety.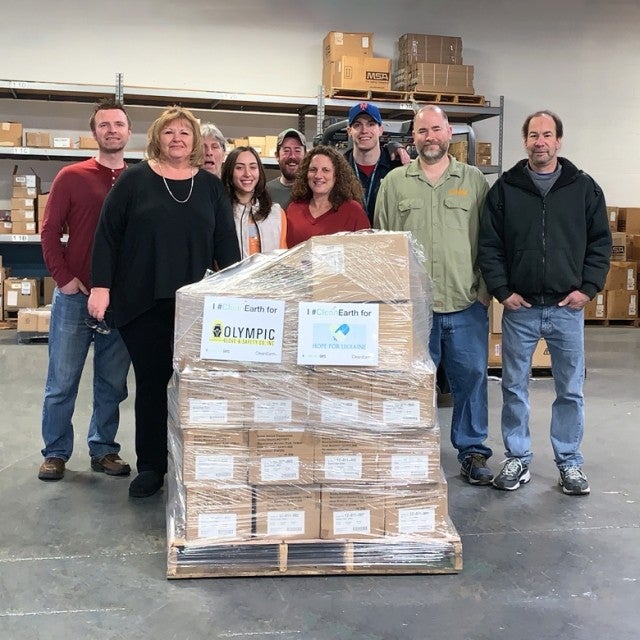 Taking it a step further, the Jersey City Dredge team including John Huhn, Mark Laura, Marco Pagan and David Corbett aided Yuriy Bocheko in loading a sea container with the collected supplies to be shipped to Ukraine.
"It feels really good to help and my team is into it," said Huhn. "Thanks for your support of HFU's efforts for the people of Ukraine."
The Jersey City site continues to collect items, now expanding beyond medical supplies, to include clothing, bedding, non-perishable food, and toys. To donate, all items must be boxed with contents marked on the box. You can drop off items at the Clean Earth facility at 1 Linden Avenue East, Jersey City, NJ 07305, or directly to Hope For Ukraine's storage center.
To stay up to date on how other Clean Earth facilities are giving back to the community, follow the Company on Facebook, Twitter, LinkedIn or Instagram.
The information, content and materials provided in this Clean Earth's Dredge Facility Organizes Collection Event for Ukraine blog and in related materials ("Content") does not, and is not intended to, constitute legal advice, nor is it prepared by lawyer or law firm or as the product of any attorney-client relationship. Content is provided "as is;" no representations are made that the content is error-free. Content is available for general informational purposes only and may not constitute the most current legal or other information.  Recipients of the Content assume all responsibility and risk arising from its use and reliance upon the Contact and should contact an attorney to obtain advice before acting or refraining to act on the Content.  All liability with respect to actions taken or not taken based on the Contents is hereby expressly disclaimed.