Blog
9/22/2022
Driver Spotlight: Robert Smith's Story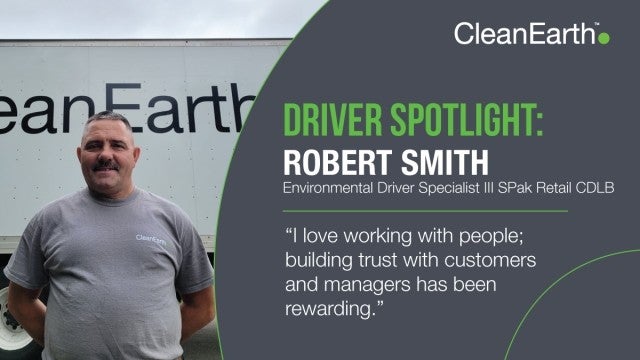 SHARE
Robert Smith, Environmental Driver Specialist III SPak Retail CDLB, is a leader amongst his peers and always prioritizes safety. His commitment to excellent customer service and his passion for working with others makes him the ideal candidate for our Driver Spotlight Series.
How did you start driving for Clean Earth?
About 12 years ago I got a job at what was Stericycle Environmental Solutions at the time, specifically working with medical waste and servicing hospitals. After about a year in this role, I shifted into a role servicing M&I customers in healthcare. After year two, I received a retail-focused position and I've been in this role for about 10 years, having been acquired by Clean Earth in the meantime.
How has your role changed overtime?
In the beginning, most of my responsibilities focused on handling retail waste including controlled substances from pharmacies. Overtime stops went beyond retail, to include larger industrial stops. For Clean Earth drivers, the idea is to eventually bunch all stops together in one platform, but on any given day I could service stops from all aspects of the business.
What do you like most about your role?
The best part of my job is the freedom. Being out on the road, you don't have someone leaning over your shoulder. I receive my route and then I complete it efficiently. This job has also allowed me to see 36 states including Hawaii. I enjoyed seeing new places but more recently I've been servicing a specific region and have gotten to build connections with customers and managers I service repeatedly. I love working with people; building trust with customers and managers has been rewarding.
You've taken on a leadership role within your region. In what ways are you relied on?
About six years ago I was asked to start training new hires, and since then I've taken on a role training new drivers within my region. I work with new drivers for about two weeks; at first, I let them observe my day-to-day, before I incorporate them into the daily activities. I train and watch them until they are ready to go out on their own. Other than training new drivers, managers often turn to me when testing out new initiatives or programs. I often act as the "guinea pig" for these new initiatives, and I get to offer my feedback. Lastly, at my site, I've personally taken on a leadership role in ensuring everyone is clocking in and out in a timely fashion. In this, I also order any supplies and drums our site may need.
How do you incorporate safety in your role, while encouraging others to partake in safe practices?
Safety out in the field is extremely important. Especially when it comes to drums; moving heavy drums, stacking them properly when necessary, and using proper equipment like drum carts is crucial. I encourage everyone to take the time to do their job safely; serious injuries can prevent them from going home to their families. I try to instill this in a way where it becomes second nature.