Blog
10/13/2023
Enviri Women: Karen Whitaker's Story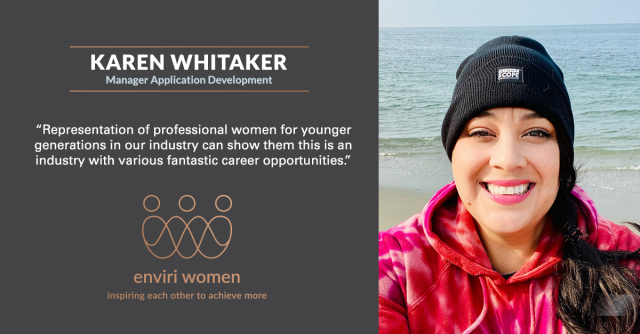 SHARE
Our Enviri Women employee resource group fosters a diverse, inclusive workplace aligned with our organizational mission, values, goals, business practices and objectives.
We are proud to feature Karen Whitaker who has been a tremendous asset to Clean Earth and embodies what Enviri Women is all about.
How did your career start, and what has your work experience been? 
This year marks my 30th year working at Clean Earth and in the industry. My 30 years began at Phillip Environmental, which then turned into PSC. Stericycle purchased PSC, and then Clean Earth purchased my division. I have been a part of the same company for 30 years, just changing names. 
Will you talk about your current role at Clean Earth? 
My current role is Manager of Business Applications, which involves waste tracking and billing applications. I help maintain the programs with developers and businesses, and we help make system changes to the legacy applications. We assist in building new applications and advise them. 
Are there any misconceptions people may have about your position?
A common misconception is that people think I work at the help desk, set up your security, and have control over it. If someone asks for help, I am okay with redirecting them to the appropriate resource person.
Let's talk about some of the highlights of your career. What has been the most rewarding or meaningful part of your work experiences thus far?
While working here for 30 years, there have been a lot of rewarding moments, but the family atmosphere within the teams is the best, whether it be in customer service, IT, or transportation.
I initially started my career as a receptionist. Beginning this way was a quick and great way to learn about the Company, and people were very generous in teaching me. Learning is essential to me, as I didn't get to attend college, so this has been my university. I never thought I would be in IT at a specialty waste company. I was in customer service for the longest time and got a lot of compliance and waste experience. I love that people are willing to teach you so you can better yourself and your career. That is what makes it fun to work for Clean Earth.
Do you have a fun fact about yourself or a hidden talent you want to share?
I love to golf two or three times a week.
Do you have anything else you like to do outside of work?
Outside of work, I love to spend time with my kids. My youngest is 23, and my oldest is 30, and they live nearby, so we have family dinners on Sundays. I enjoy spending time with them and playing our new family activity of disc golf. 
How do you empower other women in our industry? What advice do you want to share?
Our industry was originally very male-dominated; now, many people I work with are women. The work our division handles can be very rough and dirty, but many more women are willing to learn and listen. Men have always dominated this industry as truck drivers and dealing with chemicals. It seemed hard to sneak in here as a woman in the past, but when you find someone willing to help you, be ready to learn and appreciate that teacher.
How should we encourage the younger generation of women to join the waste industry?
As a specialty waste company, people assume its involves dirt and heavy lifting; however,  we have all these incredible career opportunities. A lot of engineering and brainpower is involved in positions, from tracking to regulations. Companies like Clean Earth need to be heard and send representatives to colleges. It would be nice to see us in the education area to encourage women to apply for jobs in the environmental industry. 
Looking back, what advice would you give yourself at the start of your career?
To work more smarter, not harder. To me this means working efficiently. I remember pulling all-nighters; looking back now, it was very stressful and unnecessary.
What can we do to further improve the participation and progression of women in the recycling and waste industry?
We should have more participation in education and job fairs by sending women as representatives. Representation of professional women for younger generations in our industry can show them this is an industry with various fantastic career opportunities.