Blog
11/06/2023
Enviri Women: Katy Moerman's Story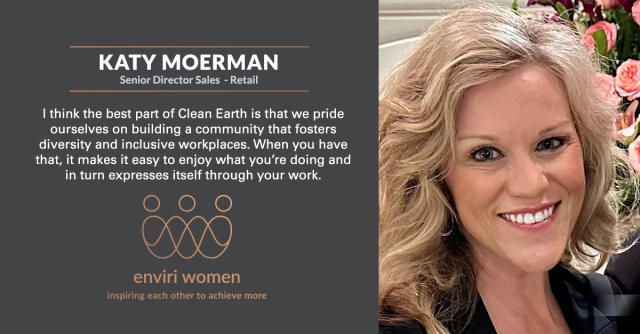 SHARE
Our Enviri Women employee resource group fosters a diverse, inclusive workplace aligned with our organizational mission, values, goals, business practices and objectives. 
We proudly feature Katy Moerman, who has been a tremendous asset to Clean Earth and authentically reflects our 'be customer-focused' value. This value demonstrates the ability to actively listen to our customer's needs and exceed their expectations. 
How did your career start, and what has your work experience been? 
I have been active in the hazardous waste industry for 11 years and engaged with the environmental sector for over 20 years. I began in a sales role and have been with the organization through several acquisitions, remaining as a part of the commercial team. 
Will you talk about your current role at Clean Earth? 
I currently work as the Senior Director of Retail Sales. I collaborate closely with the National Account Team to provide support and reliable solutions to the Retail customer vertical, who are a large part of the business that we do today. A great portion of my job is looking at ways to help existing customers choose more sustainable options, and ensuring our customer compliance is always in good health. 
Are there any misconceptions people may have about your position? 
From a sales standpoint, most people assume we play a critical role in keeping customers happy externally. While that is true, satisfying our internal teams is just as crucial. Operations, Customer Service, Billing and Compliance departments play a huge role in the sales process. There is a consistent need for balance to keep internal and external customers equally content. Maybe it's not a misconception but rather an unspoken notion that there's a lot more than just negotiation with external customers.
Let's talk about some of the highlights of your career. What has been the most rewarding or meaningful part of your work experience thus far? 
Being in roles where I'm able to help mentor individuals. I even still have mentors myself. When you're able to support other individuals, it feels very rewarding. When someone comes to you and says, "Thank you, I learned that from you," or "What you said in that meeting made a helpful difference in my outlook," it is genuinely special. The same goes for customer relationships. 
How do you enjoy your time outside of work?
I have three teenage boys, so my life is very crazy (but fun!) a lot of the time. We are a sports-driven family, so we love to visit and attend sporting events. I also enjoy baking, running and spending time with family and friends.  
How do you empower other women in our industry? What advice do you want to share? 
Finding how to be a role model in the workplace is significant, not only to our organization but to our customers as well. Being a trusted individual in the industry is huge. Being transparent, honest and making sure you are present within everyday interactions is key.
How should we encourage the younger generation of women to join the waste industry? 
I'm sure not every single woman can say they dream of being in the waste industry. It's more about having the mindset of wanting to involve yourself with a company that has similar beliefs to you. I think the best part of Clean Earth is that we pride ourselves on building a community that fosters diversity and inclusive workplaces. Having a welcoming community makes it easy to enjoy what you're doing and in turn, expresses itself through your work. Specifically at Clean Earth, it's important to get women familiar with Enviri Women and walk them through what we do. Connecting with a mentor that your personal and professional beliefs align with and allowing them to learn the benefits of surrounding yourself with powerful, inspiring women is encouraging.
Looking back, what advice would you give yourself at the start of your career? 
Be relaxed and be confident. A lot of times, happiness is not what's going on in your past or future but more about what's happening in the present and enabling yourself to truly appreciate that. It's not always about looking forward to where you should be but giving yourself the grace to feel content with what you are doing now.  
What can we do to further improve the participation and progression of women in the recycling and waste industry? 
I feel confident that we're doing a great job of making information available regarding Enviri Women. From an industry standpoint, we are involved with organizations, so we continue to complement our efforts and participate in those networking events as well. I'm already in awe of what we've been able to accomplish with Enviri Women in such a short time frame. We continue to drive and challenge our women to work toward further achievements.