Blog
11/11/2020
Managing Generator EPA Identification, Notification
SHARE
NOVEMBER 11, 2020
Notification Information
There are currently 10 states that require very small quantity generators (VSQGs) to maintain Environmental Protection Agency (EPA) identification numbers:
California
Louisiana
Massachusetts
Minnesota
New Hampshire
Rhode Island
Vermont
Washington DC
West Virginia
Wisconsin
All small quantity and large quantity generators (SQGs and LQGs) are required to obtain an EPA identification number regardless of the state where they operate. The EPA application form is defined as the 8700-12 and is available in an electronic format in RCRAInfo, the EPA's comprehensive information system. To file an electronic notification, generators must set up a RCRAInfo account. 
California offers a state application known as form 1358 for generators to obtain a state EPA identification versus a federal identification. California generators that require federal identification numbers complete the federal 8700-12 form. 
EPA Identification Notification Process
The notification form requires the generator to provide the state agency with the following information: 
Generator DBA (name, address, city, state, county)
NAICS code (North American Industry Classification System)
Mailing address (recommendation to use a central mailing address for all notifications)
Contact person
Legal operator
Legal property owner
Generator status (VSQG, SQG or LQG)
EPA Hazardous Waste Generator Improvements Rule
The EPA Hazardous Waste Generator Improvements Final Rule extended the original 8700-12 form from four to six pages. The form now includes episodic generation, pharmaceutical waste activity and notification of site closure. 
Generators can only apply for episodic generation via paper format—notification is not available electronically. All generators are allotted one planned and one unplanned episodic event per calendar year. Excess chemical inventory, cleanout and short-term construction are examples of planned episodic events. Waste accumulated from spills, product recalls and acts of nature would be defined as an unplanned episodic event. 
Generators are required to notify the state agency within 60 days of the episodic event transpiring. The application process requires a description of the waste, an estimated volume in pounds and applicable waste.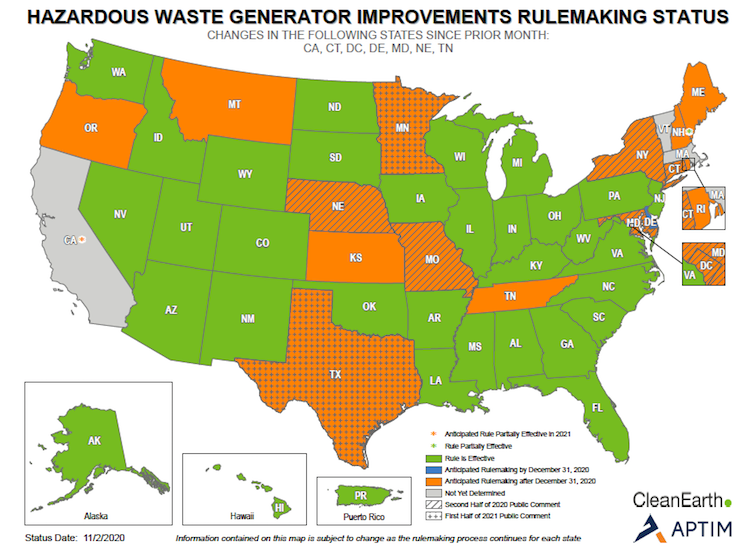 Only VSQGs and SQGs qualify to apply for episodic generation. LQGs do not qualify for episodic generator exemption. Site closure notifications require dual submissions: the first notification is due 30 days prior to a site closing; the secondary notification is due 30 days after the business has officially closed. The Generator Improvement Rule will require SQGs to re-notify in 2021 and LQGs to re-notify on even numbers as part of their biennial hazardous waste reports.
Management Standards for Hazardous Waste Pharmaceuticals
Under the final management standards, generators of hazardous pharmaceutical wastes will manage their hazardous waste pharmaceuticals under 40 CFR part 266, Subpart P instead of the standard RCRA generator regulations found in 40 CFR part 262. Subpart P notification is required 60 days prior to following Subpart P.  
VSQGs opting into Subpart P will need to obtain an EPA identification number as part of the requirement. 
EPA Electronic vs. Paper Notifications
When sending notifications via paper, the state requires 14 business days to process the application. Electronic notifications are submitted, and generators will receive an assigned EPA identification number within seven days. All notifications are sent to the RCRAInfo account owner's email address for record keeping. 
Generator status change submission is maintained electronically and gives generator visibility. When completed by paper, follow-up with the state agency is required. The state agency does not send out notifications for changes to generator status. A paper notification resource is available here.
Four best practices
Maintain waste logs at your facilities
Utilize manifests to support your generator status determinations
Change your generator status to maintain compliance with waste disposal amounts
Understand the common misconceptions about change in generator status, such as inspections, fees and state reporting requirements
###
Ashley Campbell is a Compliance and Regulatory Affairs Specialist with Clean Earth Environmental Solutions. She has 12 years of compliance experience with RCRA and DOT federal regulations along with state and local regulations. She assists with compliance management for various retail customers, which includes training, annual and biennial report submissions, permit/licensing applications and EPA Identification management.