News
8/25/2022
Minnesota to Adopt Hazardous Waste Generator Improvement Rule in 2023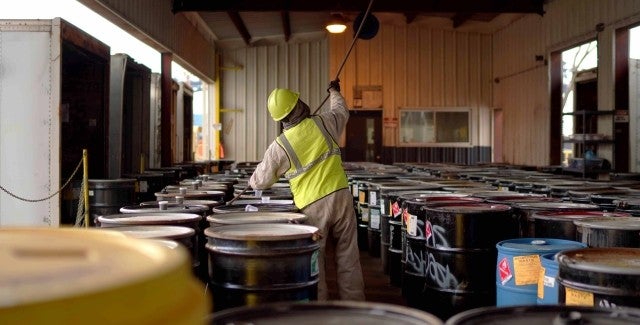 SHARE
In order to maintain compliance, it's crucial that hazardous waste generators stay up-to-date on state and federal regulations. The U.S. Environmental Protection Agency (EPA) made improvements to the hazardous waste regulatory program put into effect in 1980. These improvements amend hazardous waste regulations by allowing for more flexibility in how hazardous waste is handled.
Currently, this rule or a similar rule is in effect in 40 states. Clean Earth plans to track and report the status of remaining states when it comes to adopting this rule.
Anticipated Rulemaking Before January 2023
Washington D.C.: The rule is undergoing legislative review and is to go into effect in Summer 2022.
Anticipated Rulemaking After January 2023
Minnesota: The rule is being drafted, adding to the previously proposed rulemaking. The proposed publish date, public hearing dates, comment periods and meeting notices are scheduled for December 2022. The rule is to go into effect in 2023.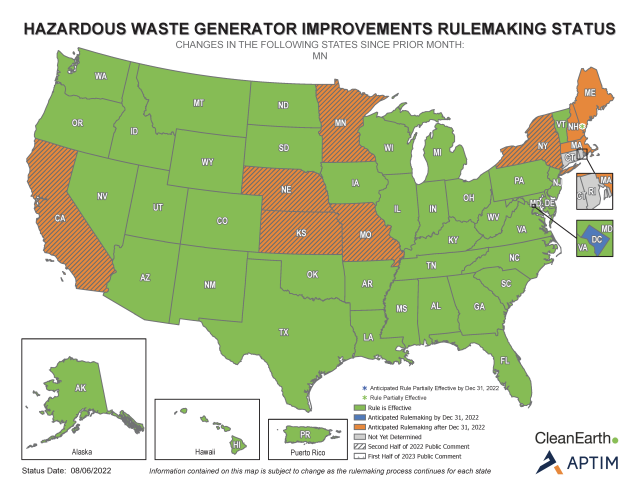 Clean Earth knows that environmental compliance is no simple matter. We help customers achieve complete compliance as requirements evolve and regulatory bodies increase their focus on enforcement. Our reporting and consulting expertise helps customers manage the complex demands of complete compliance. Learn more about our professional services today.
The information, content and materials provided in this Minnesota to Adopt Hazardous Waste Generator Improvement Rule in 2023 blog and in related materials ("Content") does not, and is not intended to, constitute legal advice, nor is it prepared by lawyer or law firm or as the product of any attorney-client relationship. Content is provided "as is;" no representations are made that the content is error-free. Content is available for general informational purposes only and may not constitute the most current legal or other information. Recipients of the Content assume all responsibility and risk arising from its use and reliance upon the Contact and should contact an attorney to obtain advice before acting or refraining to act on the Content. All liability with respect to actions taken or not taken based on the Contents is hereby expressly disclaimed.