News
10/03/2023
Minnesota and Missouri Prepare to Adopt Hazardous Waste Generator Improvement Rule in 2024
SHARE
On November 28, 2016, the Federal Register (FR) recognized the EPA Administration for signing the final Hazardous Waste Generator Improvements Rule. This rule clarifies hazardous waste generator regulations which provides flexibility to waste generators regarding how waste is managed. To this day, the EPA continues to bridge important gaps to consistently improve the rules along with strengthening environmental protection amongst communities.
As more states decide to implement the Hazardous Waste Generator Improvement Rule, Clean Earth is committed to supporting waste generators by providing monthly updates on the rulemaking status.
Anticipated Rulemaking in 2024:
Minnesota: The rule is currently being drafted, in addition to its previously proposed rulemaking: Land-Related Housekeeping Amendments. The proposed publish date, public hearing dates, comment periods and meeting notices are set to take place in January 2024. If no hearing is required, the final rule date will be effective in May 2024. Contrarily, if a hearing is required, the final rule will go into effect in October 2024.
Missouri: The rule is still being drafted and in the Stakeholder Review Period. The proposed publish date, public hearing date, comment periods and meeting notices are not yet determined. The final rule effective date will occur in early 2024.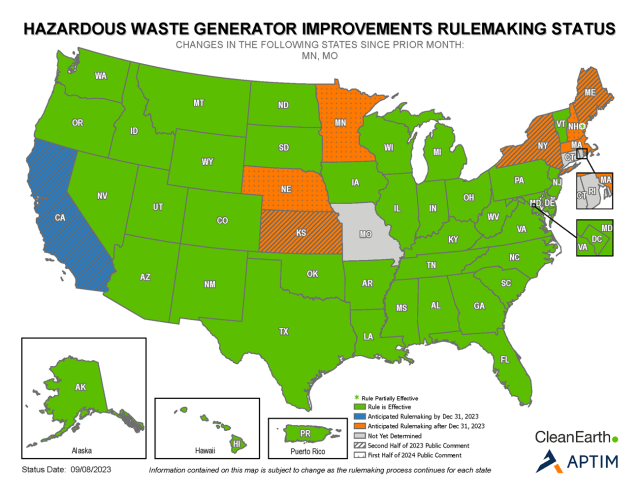 Clean Earth's expertise in hazardous waste management is unmatched, offering comprehensive solutions to fit your needs. We are dedicated to offering an extensive service to our customers that reflects not just a vendor but a partner who is by your side during every step in the process. Contact us today.
The information, content and materials provided in the Minnesota and Missouri Prepare to Adopt Hazardous Waste Generator Improvement Rule in 2024 blog and in related materials ("Content") does not, and is not intended to, constitute legal advice, nor is it prepared by lawyer or law firm or as the product of any attorney-client relationship. Content is provided "as is;" no representations are made that the content is error-free. Content is available for general informational purposes only and may not constitute the most current legal or other information. Recipients of the Content assume all responsibility and risk arising from its use and reliance upon the Contact and should contact an attorney to obtain advice before acting or refraining to act on the Content. All liability with respect to actions taken or not taken based on the Contents is hereby expressly disclaimed.