News
10/21/2021
Oklahoma Latest to Adopt Aerosols as Universal Waste Final Rule
SHARE
At large retail facilities, aerosols have accounted for up to 40% of the items managed as hazardous waste which has led the Environmental Protection Agency (EPA) to add aerosol cans to the federal universal waste list. This rule allows generators to manage aerosol products with the less complicated universal waste requirements and as a result, enables retailers to significantly reduce how much hazardous waste they are generating.
Additionally, the following outlines the state-by-state implementation of the Aerosols as Universal Waste Rule, focusing on changes over the past month.
Rule already in effect
Oklahoma:

Public comments were approved by the board on February 19, 2021, with the final rule going into effect on September 15, 2021.
Similar rule already in effect
Colorado:

The rule is in the public comment period. Colorado already has a similar law and is determining if changes are required. Proposed rule to be published October 5, 2021, on their website with it to be published in the State Register on October 25, 2021. The earliest possible publication of the final rule is December 31, 2021.

Ohio:

A similar law is already in place and the new rule is currently being drafted to address required changes. Interested Party Review to take place in late 2021.

Utah:

The rule is in the public comment period. A similar state law is already in effect, and revisions will closely mirror the federal rule. Final rule is anticipated to go into effect on December 10, 2021.
Anticipated rulemaking by December 2021
Mississippi:

The rule is currently being drafted (adopting by reference) and is to be published in October 2021, after the regulations are written and the notices are complete. Public hearing, comments and meeting notes are to occur in November 2021. The final rule is to go into effect late 2021/early 2022.
Anticipated rulemaking after December 2021
Maryland:

The proposed rule will be published late 2021/early 2022, as well as a public hearing and comment period taking place during that time. The final rule is to go into effect in 2022.

Massachusetts:

The proposed rule is currently being drafted and is to be published in 2022.

Missouri:

The comment period and hearing for the public is to be held December 16, 2021, with the final rule going into effect in 2022.

South Dakota:

Rulemaking is currently in the internal discussions period. The final rule is proposed to go into effect in 2022.

Wyoming:

The proposed rules are in the public comment period and are expected to be published on September 12, 2021. Public comments are due by November 11, 2021.
Clean Earth has extensive technical capabilities to handle the processing of many types of consumer commodities. When disposing aerosols, they must be handled responsibly in compliance with state and federal law in a way that reduces their potential environmental impact. We have a custom-built, cutting-edge aerosol recycling plant capable of recycling over 7 million cans per year.  
Learn more about our unique ability to process and fully recycle aerosol waste products.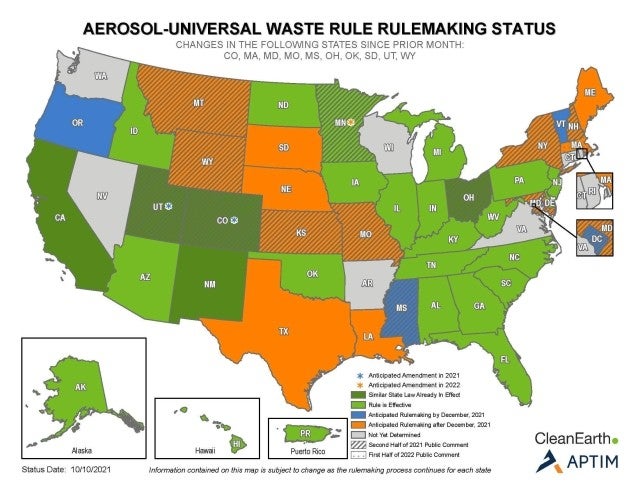 The information, content and materials provided in this Oklahoma Latest to Adopt Aerosols as Universal Waste Final Rule and in related materials ("Content") does not, and is not intended to, constitute legal advice, nor is it prepared by lawyer or law firm or as the product of any attorney-client relationship. Content is provided "as is;" no representations are made that the content is error-free. Content is available for general informational purposes only and may not constitute the most current legal or other information.  Recipients of the Content assume all responsibility and risk arising from its use and reliance upon the Contact and should contact an attorney to obtain advice before acting or refraining to act on the Content.  All liability with respect to actions taken or not taken based on the Contents is hereby expressly disclaimed.