Blog
8/24/2022
Safety Leader Spotlight: Angeline Ebejer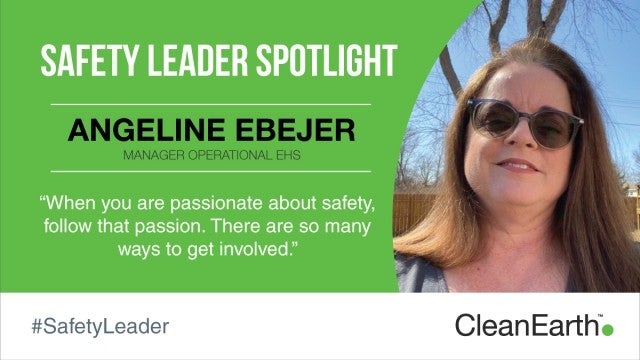 SHARE
Across Clean Earth, we hold each other accountable through our shared values to uphold and implement our environmental health and safety policies and procedures every day.
Angeline Ebejer is a wealth of knowledge when it comes to safety and earns the respect and buy-in from her peers. Her experience paired with the pride she exhibits in what she does, makes her a safety leader within Clean Earth.
How did you get your start in the industry?
I got my start in the industry through a Clean Earth customer where I was a Safety Specialist working weekly with the environmental solutions team. After a few years there, I found a job opening at Clean Earth on the west coast, applied and got the job. I have been with the Company since 2017. I've always taken a liking to safety. Whether it's following the rules or keeping others safe. I love getting to work with a variety of people. I enjoy my job and love coming to work every day to do something I'm passionate about.
What is the most rewarding aspect of your job?
I would say the most rewarding part of my job is earning employee buy-in relating to safety. To do this, it's crucial that I bring attention to leading indicators that need improvement so that there is a mutual understanding. Successful buy-in results in increased scores, and helping sites not just meet expectations, but exceed expectations. It's rewarding to hear that a location I've given direction to has completed a good internal or external audit because it tells me I earned their trust and together we are making our workplaces safer.
How do you encourage others to engage in safe practices?
Most importantly, I try to get out there and lead by example. Often, I'll need to coach someone on a safety measure. For example, if someone doesn't secure their seat belt when operating a fork-lift, I will share with them accidents or injuries I've seen that this could result in. It's crucial to give people an explanation on why safety measures are important. I want every person to go home healthy, happy and safe. Everyone deserves to enjoy their quality time off work, and I know nursing a soreness or injury affects the quality of that time.
What safety initiatives have you been a part of?
I've been working with the team to update and roll out the new EHS Manual across the division. This manual will help to integrate and unify our process. I'm also helping to continue the expansion of our (behavior-based safety) BBS observations and the development of our internal audit programs.
What advice would you give someone pursuing a career in safety in our industry?
When you are passionate about safety, follow that passion. There are so many ways to get involved. You can join a safety improvement committee, or volunteer to help do the daily and weekly inspections. If you see a team member you are working with that isn't doing something properly or safely, you need to make them aware that what they're doing isn't the way it should be done. Learn how to coach team members to the safety aspects of their job. Make sure that co-workers review their Job Safety Analysis (JSA). Maintaining constant communication around safety will continually emphasize that safety is a priority.