Blog
7/27/2022
Safety Leader Spotlight: Phil Theriault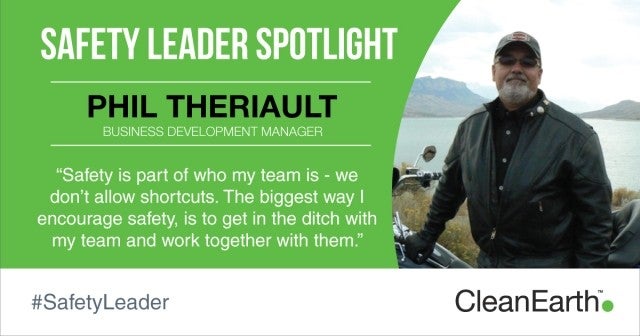 SHARE
Across Clean Earth, we hold each other accountable through our shared values to uphold and implement our environmental health and safety policies and procedures every day.
Phil Theriault, Business Development Manager, demonstrates what it means to be a leader in safety and has been recognized as the Impact Award Winner in the Company's Safety category.
How did you get your start in the industry?
I transitioned from the environmental investigation field to the environmental clean-up field in 1996. I started with Environmental Soil Management of New York LLC that is now part of Clean Earth. I functioned as a facility manager, safety manager and technical manager reviewing projects for acceptance at the facilities. I transitioned into managing the portable soil remediation equipment in the early 2000's. Since then, I have managed most of Clean Earth's portable thermal treatment projects. My experience leading up to my current role gave me the knowledge base and background to be successful, which has fostered the health and safety record I hold today.
What is the most rewarding moment of your career thus far?
I've been working on a project in Northwest Florida for the past five years. It's the largest scale project I'm aware of in the ex-situ thermal treatment world. We ran two thermal treatment units simultaneously and we did it without incident, and it was successful financially. Put together, it culminated into a rewarding project.
What safety initiatives have you been a part of?
I helped with buying the tire inflation barriers for any of the CE locations who needed one. Furthermore, my team and I work in a hot environment; keeping cool and staying hydrated is key for health and safety. To help facilitate this, we purchased a snow cone machine at our facility and I encourage my team to take more breaks than they feel they need and drink more water than they feel they need. We look out after each other. If you wait until you are thirsty, it's too late to be well hydrated.
How do you encourage others to engage in safe practices?
Safety is a part of who I am; I've been hurt before, and I know the toll that being hurt can take. Safety is also part of who my team is - we don't allow shortcuts. The biggest way I encourage it, is to get in the ditch with my team and work together with them at least once a day. Through this I can observe how they do things and correct anything I see that's wrong. Additionally, I get to witness my "toolbox" meaning all the assets that go into daily operations. I ensure our tools are in good working order, and the site is free and clear of trip hazards. I also get in the equipment that my team uses and run it myself. Through this, my team becomes an extension of me. This practice goes beyond health and safety; it earns respect.