News
10/03/2023
South Dakota Officially Adopts Aerosols as Universal Waste Rule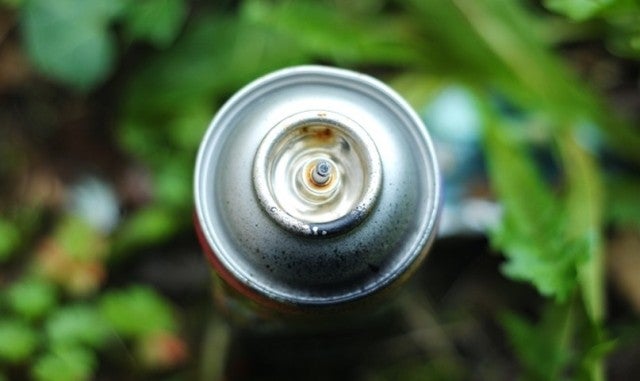 SHARE
For over 20 years, the Federal Universal Waste Program has dedicated its efforts to create streamlined regulations for hazardous waste management. From 1995 to 2018, five waste streams were added to the program: aerosol cans, batteries, pesticides, mercury-containing equipment and lamps. Known as the Aerosols as Universal Waste Rule, adding aerosol cans aids generators by easing regulatory burdens.
States are consciously working to advance their engagement in the Universal Waste Program by adopting this rule. Clean Earth plans to track and report each state's status of the rule as the efforts continue.
Final Rulemaking is in Effect:
South Dakota: The rulemaking is complete and went into effect on August 28, 2023.
Anticipated Rulemaking in 2024:
Minnesota: The rule is currently being drafted, in addition to the previously proposed rulemaking: Land-Related Housekeeping Amendments. The publish date, public hearing dates, comment periods and meeting notices are set to take place in January 2024. The final rule will be effective in May 2024 if no hearing is required. Contrarily, if a hearing is necessary, the final rule will go into effect in October 2024.
Missouri: The rule is still being drafted and in the Stakeholder Review Period. The proposed publish date, public hearing date, comment periods and meeting notices are not yet determined. The final rule will go into effect in early 2024.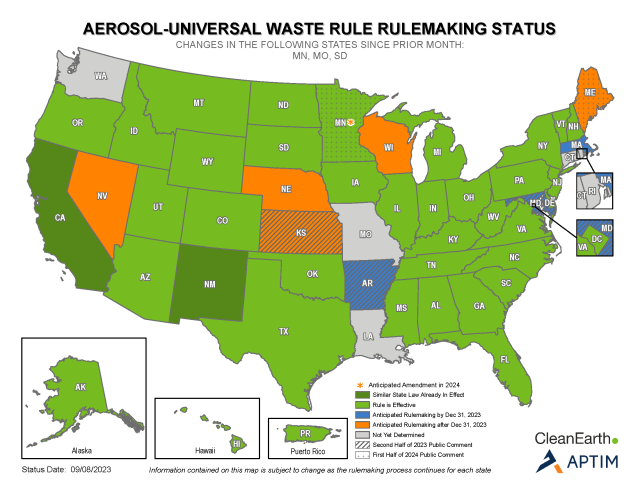 Clean Earth provides comprehensive solutions to transform your aerosol waste into recycling opportunities. Learn about how the proper disposal of aerosol cans can offer many sustainable benefits.
The information, content and materials provided in the South Dakota Officially Adopts Aerosols as Universal Waste Rule blog and in related materials ("Content") does not, and is not intended to, constitute legal advice, nor is it prepared by lawyer or law firm or as the product of any attorney-client relationship. Content is provided "as is;" no representations are made that the content is error-free. Content is available for general informational purposes only and may not constitute the most current legal or other information. Recipients of the Content assume all responsibility and risk arising from its use and reliance upon the Contact and should contact an attorney to obtain advice before acting or refraining to act on the Content. All liability with respect to actions taken or not taken based on the Contents is hereby expressly disclaimed.