News
11/23/2021
Three States Continue Toward HWGIR Adoption by End of Year
SHARE
The hazardous waste generator regulatory program was first put into effect in 1980, and the past 40 years have resulted in updates and improvements to the program to allow for more clarity, consistency and flexibility. The U.S. Environmental Protection Agency's (EPA) final Hazardous Waste Generator Improvements Rule amends hazardous waste regulations by allowing for that flexibility in how hazardous waste is handled and has made the regulations easier to understand. 
In order to remain compliant, it's important for hazardous waste generators to stay up-to-date on where the rule is in effect and when to expect adoption in each state. To provide updates on these changes, we'll be monitoring the rule's progress throughout the year. 
State updates since last month include:
Anticipated rulemaking by December 2021
Oregon:

Rule is currently under legislative review. Committee meeting was held November 17-18, 2021, with the final rule going into effect January 1, 2022, if the Board approves in November.

Vermont:

The rule is under legislative review and is set to go into effect late 2021.

Washington, D.C.:

Proposed rule to be published late 2021/early 2022. Public hearings, comment periods and meeting notices to take place in late 2021/early 2022 as well. Comments may be accepted for 30 days following publication in late 2021/early 2022.
Anticipated rulemaking after December 2021
Minnesota:

Currently drafting rule that will be published in March 2022. Public hearings, comment periods and meeting notices will take place in March 2022.

Missouri:

Public hearings, comment periods, meeting notices and proposed rule publishing will take place late 2021/early 2022.

Montana:

The rule is in the informal public comment period and intend to be adopted by reference. The formal public comment period will take place in the first half of 2022.

Texas:

Rule is intended to be published January 28, 2022, with it going into effect February 3, 2022.
Clean Earth encourages any generator managing potentially hazardous waste to do so in accordance with the generator regulations as safety remains of the utmost concern. Our expertise in the industry and expansive technical capabilities have allowed us to process a wide variety of hazardous waste materials, prompting us to always look for innovative solutions for disposal and recycling.
Learn more about how we reduce the environmental impact of hazardous waste.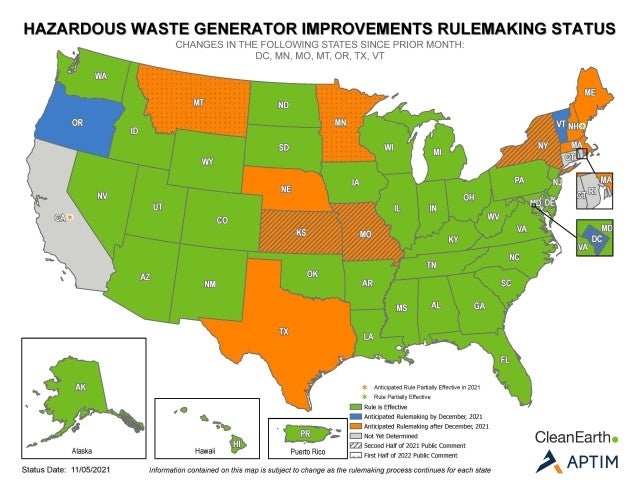 The information, content and materials provided in this Three States Continue Toward HWGIR Adoption blog and in related materials ("Content") does not, and is not intended to, constitute legal advice, nor is it prepared by lawyer or law firm or as the product of any attorney-client relationship. Content is provided "as is;" no representations are made that the content is error-free. Content is available for general informational purposes only and may not constitute the most current legal or other information.  Recipients of the Content assume all responsibility and risk arising from its use and reliance upon the Contact and should contact an attorney to obtain advice before acting or refraining to act on the Content.  All liability with respect to actions taken or not taken based on the Contents is hereby expressly disclaimed.