Blog
9/15/2021
Women of Harsco Celebrates our Women Drivers: Bree Maher's Story
SHARE
A Change of Scenery: Bree Maher, Driver Technician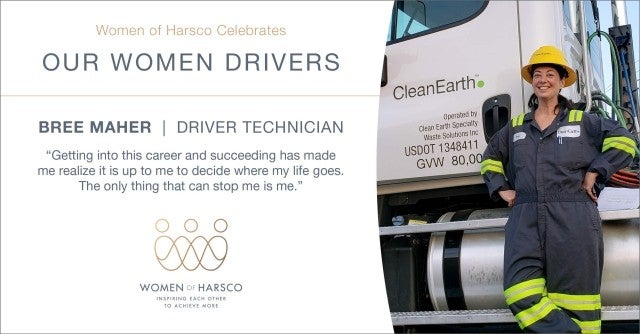 Bree Maher did things the traditional way. She went to school and received her bachelor's degree in history before getting an office job. A few office jobs later, she realized she wasn't feeling fulfilled and decided it was time to try something new. One CDL A license later, Bree was hired as a Driver Technician for Clean Earth, working out of our Washougal, Washington facility. In this role, Bree explores a different side of life; one that she may not have seen if she hadn't been brave enough to make a change.
Tell us about your position and a typical day on the job.
My position is considered a Driver Technician. Typically, my day involves transferring hazardous waste from our location in Washougal, Washington, to Tacoma or Kent, Washington, and then back to Washougal. Roundtrip, it should take about six hours to drive but depending on traffic, it can take me 10-12 hours.
On average how many miles do you travel in a typical day, week, or month?
I drive about 350 miles a day which is 1,750 miles a week, and 7,000 miles a month.
Does this position require any special license or certification? 
Yes. I have a CDL A license for trucking with a HAZMAT and Tanker endorsement. I have the tanker endorsement required for transporting bulk liquid materials in totes because it can surge or move against the walls of the container.
What are the top 3 most important parts of your job and why?
Compliance, safety, and dedication to the job are the most important parts of my job, and they all go hand in hand.
Compliance means we are transporting the materials both legally and securely. It means we must remain compliant with the U.S. Department of Transportation and their regulations. My dedication to the job is important because there are little things that would be easy to overlook, like a light being out on the truck. But if you ignore those little things, you are no longer in compliance and your vehicle is no longer safe, which could lead to you receiving a ticket, impacting you personally and professionally. Remaining dedicated to the job and making sure you properly complete your trucks pre-trip inspection is so important.
What do you like most about your job?
I really just love being on the highway. I'm lucky enough to live in the Pacific Northwest and I love the views I get to see on a daily basis. I worked in an office before and didn't like the same old day-after-day work. I wasn't expanding my horizons, so I decided to make a change.
What inspired you to pursue this career path?
When I was younger I moved a lot, and we would drive across the country. I enjoyed being on the road and seeing the U.S. that way. I've worked in several different industries and never found anything that really made me happy. I feel peace when I'm driving down the road and enjoying the beautiful scenery. This career gets me out of an office, teaches me something new most days, and is relaxing. I get to learn and there's potential for growth.
What is a misconception people have about your position?
A lot of people may think being a truck driver is an easy job because it may appear that you sit for long periods of time. However, that's really not the case.  A position such as mine requires detailed, technical expertise for handling waste, a customer service mindset, and a deep understanding of safety both on and off the road.
What advice would you give to women who want to pursue truck driving?
A work-life balance is important.  Do your research on the hours the job requires because they can vary by industry. Some jobs will require weekends, while others may start at 3 a.m., it just depends on the job and the industry. This information will help you align the right type of truck driving career with your family life.  Do your research on what kind of trucking you are interested in doing. Take a look at the pay and make sure it's what works for you.
Working with other truck drivers will show you a different side of life and different points of view.  Don't be intimidated because you're a woman, you can do anything.
And always remember it's never too late to start. There are so many great tech and trade jobs out there. I have a bachelor's degree in history, and it didn't do much for me. After working some office jobs, I got my CDL license and took this job and it's a much better fit for me.
What is the most interesting part of your job?
Seeing the changes that are going on in the industry are interesting. Some truck stops used to only have a men's restroom, but now they have a women's restroom. At some of the older truck stops you can see them adapting to having more women present, which is interesting.
And seeing where this career will take me! The people I meet in this industry are very different from the people I met in office jobs, and I like that.
What has been the most rewarding moment of your career so far?
Being independent and "rocking it!" in a dominantly male industry while not feeling intimidated. I had to overcome that initial fear of, "can I do this?" and "will I be accepted here?" Those aren't things I usually care about, but when I started this job, I did have those fears. Getting into this career and succeeding has made me realize it is up to me to decide where my life goes. The only thing that can stop me is me.