Blog
10/13/2021
Women of Harsco Celebrates our Women Drivers: Carla Lacy's Story
SHARE
Going the Extra Mile: Carla Lacy, Environmental Specialist Driver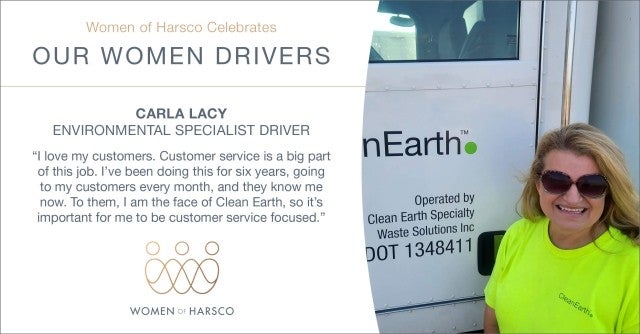 "I love my customers. Customer service is a big part of this job. I've been doing this for six years, going to my customers every month, and they know me now. To them, I am the face of Clean Earth, so it's important for me to be customer service focused."
"Satisfy the Customer" is one of Harsco's core values. We are engaged in the relentless pursuit of customer satisfaction by listening to the customers' needs, and consistently delivering value that exceeds their expectations. Carla Lacy, an Environmental Specialist Driver for Clean Earth in Tulsa, Oklahoma, embodies this value every day in her work. Even when days are tough, Carla puts forth the effort to greet her customers cheerfully.
Tell us about your position and a typical day on the job.
I am a Clean Earth Technician, so while I do drive a truck, I also work in the inside of the truck where I have an office-type setup. Using my truck, I go to big box and pharmacy type stores to pick up hazardous waste. I need to make sure all waste that we collect at these locations is accounted for by putting it into the computer and scanning it. Then I segregate the waste so compatible chemicals travel near each other. Once everything is packed up into drums, I create my manifest for the trip.
On average how many miles do you travel in a typical day, week, or month?
My territory is about five states, and the number of miles I travel per week can vary. On average, it is about 12,000-14,000 miles per week. Usually I travel to 28 stores, but if something comes up and there's more that needs to be done, I find a way to do it.
Does this position require any special license or certification? 
Yes. I have a Class B CDL license that has a HAZMAT endorsement. I also had to complete training with the Department of Transportation and receive a Drug Enforcement Administration Certification since I handle pharmaceutical waste.
What are the top 3 most important parts of your job and why?
Making sure all my jobs are completed correctly and that they don't roll to the next day.
Safety is also very important in a couple different ways. We have PPE that we wear to protect ourselves since we are handling hazardous waste, and there's a lot that goes into ensuring we are handling everything properly. Chemicals can explode, so understanding these various chemicals and safety is key. I drive long distances daily, so I also need to be very mindful of weather conditions, length of time at the wheel and truck maintenance.
Last but not least, my customers. I love my customers and providing great customer service is a big part of the job. I've been doing this job for six years and my customers know me now. To them, I am the face of Clean Earth, so it's important for me to be customer service focused.
What inspired you to pursue this career path?
I was a waitress and school bus driver for 20 years, so I had my Class B CDL license already. I knew someone who was working as a tech with Clean Earth at the time who told me I should apply for the job. They knew my work ethic and knew that I work hard to get the job done. This individual inspired me to apply and here I am.
What is a misconception people have about your position?
That I'm just a truck driver. There's so much more to this job than that. This is an intense technical job requiring attention to detail to keep us compliant and safe. I actually have a whole office in the back of my truck where I spend a lot of time processing the pick-up of the material. If I do six stores a day and it takes forty-five minutes to an hour and a half to do the work for each store, that's a lot of time spent working in the truck and not driving. I do have to drive from store to store, but there's a lot more to it.
What advice would you give to women who want to pursue truck driving?
Stick with it for the first year, and maybe even longer, because it gets better and you can do it. The first five months on the job I doubted myself and thought I couldn't do it. There is so much to learn, and each customer stop has a different process. But the longer I did it, the more I learned, the more relationships I built and the easier it became. It's not an easy job, but if I can do it, anyone can do it.
What has been the most rewarding moment of your career so far?
After that first year, I really got a good grasp on the job and that was rewarding. Also, the customer interactions. I really care about my customers, and I know they enjoy working with me.
What is the most interesting part of your job?
Every day is different. The procedures at each customer site might change from time to time, which keeps things interesting. I also don't know where the road is going to take me each day, or who I'm going to meet. I see a lot of beauty - beautiful scenery, beautiful people. This job can be tough sometimes, but there's a lot of little things that make it beautiful. I really enjoy it.
What do you like most about your job?
My customers. Interacting with them is the best part of the job.