Blog
11/17/2021
Women of Harsco Celebrates our Women Drivers: Sonia Herrera Carrera's Story
SHARE
Defying the Odds:

Sonia Herrera Carrera, Lab Pack Chemist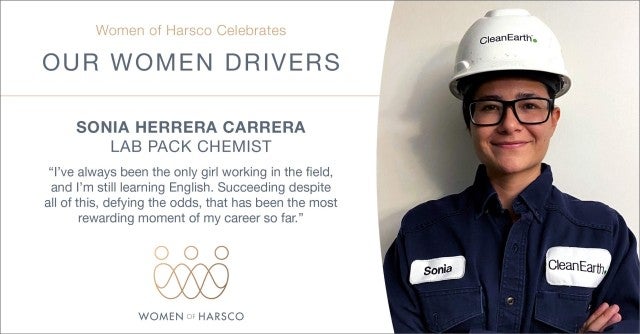 "I've always been the only girl working in the field, and I'm still learning English! Succeeding despite all of this, defying the odds, that has been the most rewarding moment of my career so far."
Sonia Herrera Carrera, a Lab Tech Chemist in Houston, Texas, has been working with Clean Earth for three years. After earning her degree in chemical engineering at Tecnológico Nacional de México in Durango, Mexico, Sonia moved to the United States and quickly found a job working in the hazardous waste industry. At Clean Earth, Sonia drives a truck to pick up hazardous waste from clients. As a woman in a field dominated by men, Sonia continues to prove her worth.
Tell us about your position and a typical day on the job.
I receive an inventory of chemicals that need to be packed for the next day. If I have time, I load up a box truck with all the supplies I will need based on that list, securing all the sizes of drums as well as labels. Doing this the day before saves me time in the morning, allowing me to have dedicated time do my truck inspection and start my drive.
My clients vary. I could be working with a hospital, a lab or a facility. If the client is further away in Texas or Louisiana, I stay the night in a hotel. Otherwise, I am completing jobs that same day.
When I get to the job site, I coordinate with the customer to locate the chemicals. At the chemical accumulation area, I determine the hazardous class of each container and pack compatible chemicals inside the drums. Each drum must be weighed before I complete the manifest for the pick-up. After the manifest is complete, I load and secure the drums in the truck and start my drive back. When I arrive at the yard, I unload the drums and leave my paperwork.
How many miles do you travel in a typical day?
It is different every day. Sometimes I drive to New Orleans, some days to Houston, or some days just to a hospital close by. On average, I would say I drive about 200 miles a day.
What inspired you to pursue this career path?
I earned my chemical engineering degree at a school in Mexico. When I came to the United States four years ago, the only opportunity I had to work as a chemist without a bachelor's degree was in the hazardous waste industry. As a Lab Pack Chemist, I was required to get a Class B license with a HAZMAT endorsement after the first six months on the job, so it just kind of happened.
What do you like most about your job?
Time goes by fast. You don't get bored because you travel to different places every day. You have some regular customers, and visit some of the same places monthly, but there are other new customers which can keep things interesting.
What are some of the most important parts of your job and why?
Safety first. You have to be aware of safety with a truck. You must perform daily inspections and drive carefully. There are cameras and sensors inside the truck to track how you are driving. You also have to be very cautious with the chemicals and how you are handling them.
The second is knowledge. Never assume anything. Hazardous waste is not a joke and needs proper handling and attention. I don't just perform pick-ups; I'm handling waste in a way that keeps people and our planet safe. I segregate the chemicals to ensure they are transported safely, and I have to use my previous knowledge and experience to do that correctly.
Every day will teach you something new and this allows me to continually apply and expand my experience in a safe and compliant manner that I can share with customers and other team members.
What is a misconception people have about your job?
That you must be a bad driver if you're a woman, or that as a woman, you're not strong enough to move pallets and drums. Sometimes I'll come across people that are probably surprised to see me – a woman – doing this job.
What has been the most rewarding moment of your career so far?
I was promoted a few times at the first company I worked for, but later received a job offer from Clean Earth. My experience continues to grow every day. I've always been the only girl working in the field, and I'm still learning English. Succeeding despite all of this, defying the odds, that has been the most rewarding moment of my career so far.
What is the most interesting part of your job?
Proving to myself every day that I can do this job extremely well and seeing all the things I am capable of doing. I go after things I didn't think I was capable of doing. When I started, I wasn't sure if this job would be a good fit for me. You may hear from time to time that this isn't a job for women, but the team of women drivers at Clean Earth continues to prove that theory wrong. I worried that I wouldn't be able to get my Class B License after six months, and that it would be difficult as a woman in a field with mostly men. I'm proving to myself, not to anyone else, that I am capable of doing it… that has been the most interesting part of the job.