Blog
1/24/2023
Women of Harsco: Dorothy Harley's Story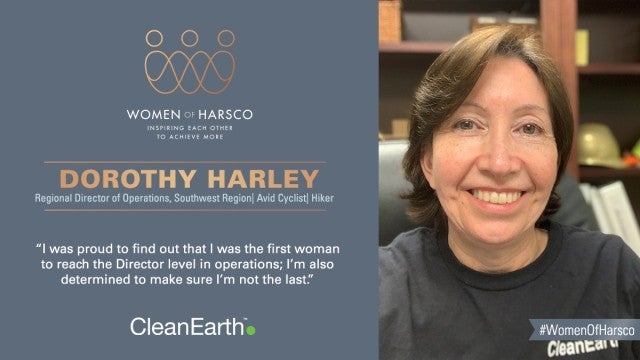 SHARE
Our Women of Harsco program fosters a diverse, inclusive workplace aligned with our organizational mission, values, goals, business practices and objectives.
We are proud to feature Dorothy Harley, Regional Director of Operations, Southwest Region who has been a tremendous asset to Clean Earth and embodies what our program is all about – inspiring future leaders.
Can you tell us about your experience in the industry and how you got your start?
I've been in the hazardous waste industry for 28 years, all of that spent with Clean Earth. I first started working at the Inglewood TSDF as a Lab Tech shortly after earning my Chemistry degree. Over the years, I moved up through different positions including Lab Manager, Materials Manager, Plant Manager and Facility Manager. I was then promoted to Regional Director of Operations for the Southwest region and have been doing this role ever since.
What does your current role entail?
I am responsible for the operations in four states: California, Arizona, Nevada and Utah. I have about 450 people in my region who consist mostly of drivers and technicians. I oversee 18 locations including 2 TSDFs and several 10-day facilities. My day-to-day involves a lot of traveling to meet employees who work in the region, working with customers, and collaborating with our Sales Team and other departments. I coordinate with a variety of people and develop plans to make the company more profitable.
Have your prior roles given you skills that apply to your current role?
Absolutely - I got to learn all the different aspects of operations through my past roles. I got involved in profile approval which helped a lot when I was running the facility and I got to see how waste is handled, managed and shipped. Seeing the technical side of what we do was helpful. I also got my MBA which gave me a basis to get more involved in the business and financial aspect, especially when it came to financial decision making for the facility.
What is a misconception about your role?
Most people outside the industry think that we only do spill cleanups, chemical releases and remediation activities. They don't realize that companies generate hazardous waste all the time in the normal course of business, and that most waste is handled responsibly.
What has been the most rewarding moment of your career so far?
I was surprised to find out that I was the first woman to reach the Director level in operations, and I'm proud of that achievement. I'm also determined to make sure I'm not the last. It has been very rewarding to help other women in their career paths, and to be a role model for what they can achieve in this industry and in this company.
What is the most interesting part of your job?
The most interesting part of my job is working on projects that expand or improve our capabilities.  Whether it's installing a large piece of industrial equipment or just tweaking a procedure to improve throughput, those are the projects I enjoy the most.
How do you enjoy your time outside of work?
I'm into cycling, and I spend a lot of time on my road bike. I try to ride about 100 miles a week throughout Southern California. It's how I stay energized and unwind. I also like to go to National Parks for hiking and to get my nature fix, and I enjoy photography as well.
How do you empower other women in our industry?
I always empower people to think about what the next step will be in their career path, and what I can do to help them get there. I also encourage people to set stretch goals – goals that may seem out of reach but can be achieved by stretching beyond your comfort zone. We've got a lot of impressive women in the region who report up to me and I'm able to help them define what their next career move is going to be and give them options of what role they can move into. I impart on them that they don't have to take a linear path. Someone could move from operations to EHS to customer service. There are many lateral moves to make. I've had a lot of women in my region say that they want my job someday which is great – I act as a role model.
What advice would you give to your younger self?
I always struggled with having the confidence in myself to go to the next level. My advice is to believe that you are capable and have the confidence to do what you want to do.
What can be done to further improve the participation and progression of women in the recycling and waste industry?
This has always been a male-dominated industry, but we offer a wide variety of interesting and rewarding careers. We need to highlight the different roles available and show the contributions we make to public health and safety, environmental stewardship, and sustainability.
How can we encourage the younger generation of women and girls to join our industry?
We really need to encourage girls and women to get into STEM programs and science classes at a young age. Furthermore, providing role models is crucial so they can picture themselves in those types of roles. We need to break the stereotype of gender roles in the workplace; women can pursue any career that they want to.