Blog
2/26/2021
Women of Harsco: Inspiring Each Other to Achieve More
SHARE
Our Women of Harsco program fosters a diverse, inclusive workplace aligned with our organizational mission, values, goals, business practices and objectives.
We are proud to feature Yvonne Brown, our HR Director for the Central Region. Yvonne has been a tremendous asset to Clean Earth and embodies what our program is all about – increasing employee engagement and inspiring future leaders.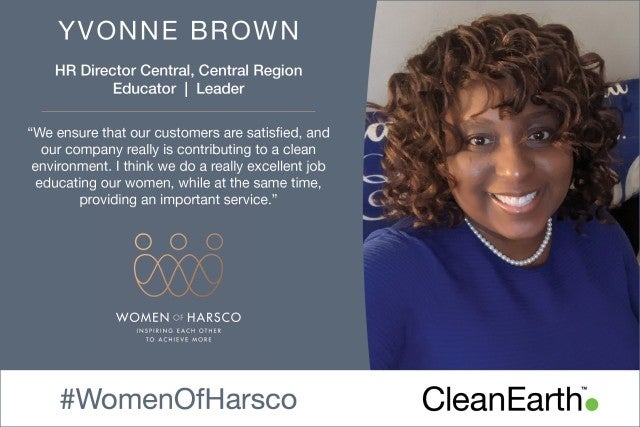 Yvonne's Story: 
Yvonne Brown began her Human Resources journey at Eastern Illinois University. She majored in Consumer and Family Science concentrating primarily on financial management and business administration. After completing her undergraduate degree, she returned to Eastern Illinois University to receive her Master's Degree in Consumer and Family Sciences. She launched her career in the South Side of Chicago at a domestic violence agency as a Counselor and ultimately to Agency Director. In 1994, Yvonne decided to make a career change and began working for the University of Illinois Extension Programs where she remained for the next 21 years. This position offered a variety of curriculums such as environmental education and money management. The emphasis on the environmental side of the program allowed Yvonne to work directly with University staff and students, applying their data and extensive ecological research directly to the local communities. While in this position, she led a volunteer program called "Master Gardeners" where she spent time working with individuals who expressed a specific interest in gardening and environmental impacts on modern society. Her program provided week-long trainings with specialists that gave the volunteers an opportunity to be hands-on. They were able to take their knowledge straight to the local communities by planting community gardens and providing information to homeowners about environmental subjects, such as pesticide use and other concerns affecting their neighborhoods.
What Advice Would You Give Your Younger Self at the Start of Your Career?
"Take the chance. If it's something you want to learn, or something you want to experience, take the chance. But make sure it's a calculated chance, and that you have the resources to support yourself."
At Clean Earth
After years of experience working in environmental matters, partnered with her experience in HR, a position became available at Clean Earth (formerly Stericycle Environmental Solutions), and Yvonne jumped on the opportunity. She has now been with the company for six years and is currently the HR Director of the Central Region of the United States. Yvonne describes her role at Clean Earth as a combination of three categories – staffing, compensation, and helping to define what the word "work" means. She trusts that when all three categories are in place, it has the best effect and improvement on overall productivity. Yvonne makes certain that we are hiring the right people for the appropriate positions, all new employees are effective and engaged, and that everyone has the proper tools to succeed within the company.
Share an Interesting Fact About Yourself
Yvonne Brown has a love for acting. When she was in elementary school, Yvonne had a music teacher who was passionate about theatrics. Her music teacher coordinated an operetta twice a year, and although she never got a leading part, Yvonne loved showing off her dancing and singing skills. In 6th grade, Yvonne was involved in a Park District group where she came upon an opportunity for a speaking role in a movie. She made it all the way to the screenplay, and just as they were about to sign her to an agent, she unfortunately was not offered the part. Yvonne admits that even though she never made it as an actress, it certainly makes for a good story.
Maintaining a Work Life Balance
Yvonne keeps family first. She has family right in the Chicago Metropolitan Area and they make a point to get together every Sunday for dinner. She defines her family as her support system who all continuously keep her grounded. Additionally, Yvonne has a core group of friends and is still active in her college sorority. Yvonne currently works along with her sorority sisters to mentor college students by supporting them in finding their professional paths and guiding them into the workforce with confidence. Yvonne tries to contribute as much as she can outside of the office, while still maintaining some time for herself.
What Advice Do You Give Women in the Workplace?
"Rules are important. It's important to not only follow the rules, but to understand the intent of the rule."
"Watch your image. Be aware of your social media image and the effect it can have on your future. Remember, the image that you want to portray in the workforce is also an extension of your personal life."
What Makes You Proud to Work at Clean Earth?
"We ensure that our customers are satisfied, and our company really is contributing to a clean environment. I think we do a really excellent job educating our women, while at the same time, providing an important service."