Blog
1/05/2023
Women of Harsco: Jennifer Wallace's Story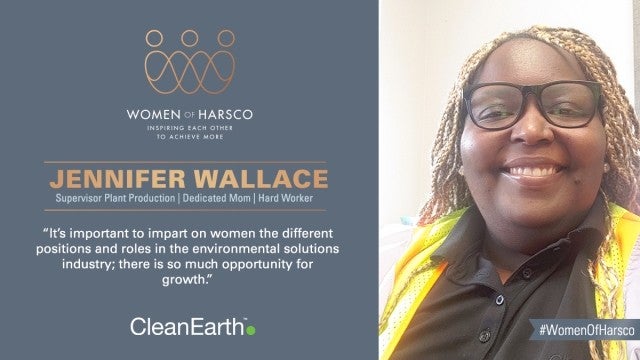 SHARE
What does your experience in the industry look like, and how did you get your start?
I have been working for Clean Earth since 2009. I began in a position processing medications and after a year, moved into the quality department where I oversaw other processors. I then accepted a position in the quality assurance department. I was in this role for five years and decided I wanted to do something different. In 2017 I applied and accepted a position as an operations support representative, overseeing day-to-day inbound and outbound shipping, along with the labeling and paperwork required. After a year in this role I moved into a client support position, overseeing client loads and invoicing. With my vast experience, I decided to go for a supervisor position in shipping and receiving, and I have held the position of Supervisor Plant Production ever since 2018.
What do you enjoy about your current role?
The best part about my job is that every day is different. I work with a large number of consumer commodities as hazardous waste, and often deal with different materials every day. I also have the pleasure of meeting different people, including several drivers who I work with on a weekly basis.
Is there a misconception about your role?
Yes – people think my role is limited to shipping and receiving. Although I am overseeing things coming in and out, it's not always as easy as it seems. It's my job to make sure drivers have the correct documentation and follow the DOT RCRA regulations. This is crucial because Clean Earth has ownership of the potentially hazardous materials that drivers are transporting.
What is a fun fact about yourself?
People might be surprised to know that I am a child at heart. I can come across as very business-like but in reality, I can be goofy. Life can pass before our eyes so quickly and I think there are times not to take things too seriously.
How do you enjoy your time outside of work?
I enjoy my time outside of work with my son. He just turned 16, and he is my everything. We like to go out to eat together and talk.
Do you have any specific routines or habits in your day-to-day that keeps you going?
On weekends I like to get up early and do something productive, whether it's going to the grocery store or going to get coffee. I call it my "mental me time." On workdays I come in early to do the same thing.
How do you empower other women in our industry?
I extend encouragement and take the time to teach or coach them when an opportunity presents itself. I impart on them that hazardous waste is a huge industry that all women can grow within. We have a lot going on at Clean Earth, so the opportunities are almost endless.
How do you think we should be encouraging the younger generation of women and girls?
There are many misconceptions about the environmental solutions industry, and I think we need to impart on them the abundance of different roles and positions that one can have. I also help empower them to become educated about topics related to sustainability.
What advice would you give to your younger self?
Little things shouldn't matter. Through my years of experience, I've learned certain lessons along the way related to adapting to job or company expectations. Giving a job or experience your best, will result in getting the most out of it.