Blog
2/23/2023
Women of Harsco: Jimmecka Henry's Story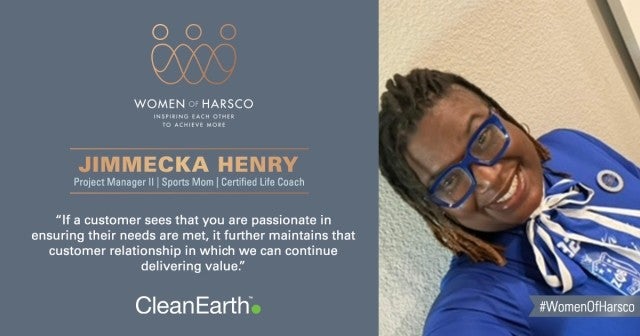 SHARE
How did you get your start at Clean Earth?
I began as a temp in June 2013 and was hired on officially in December 2013. I came to Clean Earth through an acquisition and have been with the Company for almost 10 years. When I started in the industry, I honestly knew nothing about it. I knew I wanted something different and was tired of doing the same thing in an office. I jumped into the environmental solutions industry, without a clue what I was doing. My temp role consisted mainly of data entry, which prompted me to ask a lot of questions about what I was putting into the system. I was always grateful to people who didn't mind explaining this to me. It was this role where I started growing a deeper passion to know more about the industry.
Between starting as a temp and your current position, what were the roles you held in between and the steps you took to obtain those roles?
I was in the temp role for about six months and then was hired as a Client Service Manager, which was very much related to the Customer Service aspect of our business. I handled hundreds of accounts in Michigan meaning I placed orders, ensured billing was intact, oversaw profiles and really had a hand in anything related to getting waste picked up, transferred to our facility, and processed. I'm the type of person who wants to understand and conquer everything I'm doing in one job, before I think about moving up. With this mindset, I decided to go to school and obtain my bachelor's degree in Community Development with an emphasis on Public Administration. It didn't stop there: after I obtained my bachelor's degree, I went back to school and earned an MBA in Strategic Human Resource Management. After this point, I began job hunting and found a Project Manager I position. I was apprehensive because I didn't have any recent management experience but got the position and manage a big customer's project in Arizona. The project needed someone to come in and turn it around, and I successfully did just that allowing Clean Earth to maintain a strong customer relationship. I kept pushing myself to strive for more, and as a result, I was recently promoted to Project Manager II. I look forward to my continued growth within the Company.
What responsibilities does your current role consist of?
Within this role, I have a bigger team of people who I am responsible for, and ensure we maintain a good culture. I also continue to implement ideas to drive revenue while saving money for our customers. One of the ideas I pushed to be implement was internalizing some functions that we had been outsourcing. This initiative allows Clean Earth to save the customer money while continuing to increase revenue. Satisfying our customers is a value that drives my actions. If a customer sees that you are passionate in ensuring their needs are met, it further maintains that customer relationship in which we can continue delivering value.
Do you have a fun fact about yourself?
My fun fact is that when I was five, my church held a mock wedding as a fundraiser, complete with a wedding party and limos. I was the "bride" in our mock wedding and I'm now married to the person that was the "groom." We are about to celebrate 19 years of marriage.
How do you enjoy your time outside of work?
I'm a part of a sorority that focuses on service and scholarship, and I do a lot of community service and giving back during my time outside of work. We give donations to the homeless, feed children struggling with hunger, raise money for youth that are going to college, partner with the March of Dimes and serve veterans.
Do you have any routines that keep you going?
The one thing I do every day is pray. I express my gratitude for waking up that day, and for the opportunity to inspire and encourage others.
How do you empower other women in the industry?
I encourage them to stay the course; sometimes we can feel stagnant in our roles and want to make a move or change. However, I encourage women not to give up because they can do anything they put their mind to. Sometimes good things require patience.
What advice would you give to yourself at the start of your career?
I would have told myself to just go for it. You can accomplish anything. I used to doubt myself a lot, and I think this advice would have been useful.
How do you think we can encourage the younger generation of women to get involved in our industry?
I would tell them: "dare to be different". This industry is so unique, therefore, I would encourage young girls and women to stand out, not walk with the majority, and be open to trying new things.