Blog
5/19/2022
Women of Harsco: Kaila Ilyes' Story
SHARE
Our Women of Harsco program fosters a diverse, inclusive workplace aligned with our organizational mission, values, goals, business practices and objectives.
We are proud to feature Kaila Ilyes, Technical Sales Supervisor  who has been a tremendous asset to Clean Earth and embodies what our program is all about – increasing employee engagement and inspiring future leaders.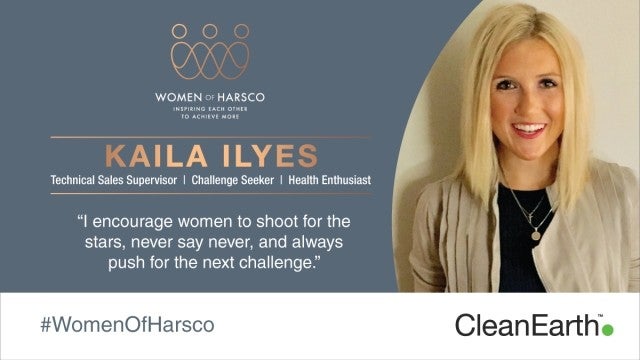 How did you get your start in the industry?
During my time at West Virginia University, it became clear how valuable real-world experience and internships are to excel. Sophomore year I began interviewing for internships, often being turned away for not being a junior. This was disappointing because I was so eager to learn and wanted to gain experience in the corporate world. I was inspired to find an alumni list of Vice Presidents and Presidents at various companies; I began emailing names on the list to see if I could get a response. One of the first to email me back was James Hull, Vice President of Sales & Marketing. I traveled to Clean Earth's Morgantown facility to meet with him in-person. After a great conversation I was offered the opportunity to work out of Clean Earth's corporate office, at the time located in Hatboro, Pennsylvania. I was immersed in every aspect of the different departments at Clean Earth. I learned about sales, marketing, approvals, EH&S, accounting, contracting, and operations. I had such a great experience that I was asked back the following year, and it was an easy decision to make. This experience made me fully aware that I really loved the customer interface and negotiation culture of sales. After graduating in 2017, I signed on with Clean Earth fulltime as the Inside Sales Representative.   
How has your position evolved over the years?
I began my position as a supporting role for the Outside Sales Representatives. As this function evolved, the company decided to expand the Inside Sales Team, and asked me to take on the role of supervising this team. I have since taken on the responsibility of a hybrid role between inside and outside sales focusing solely on fostering and developing business in the NYC territory. In my role today, I find that problem-solving, being relatable to different personalities, and understanding the need for change are key skills that I've learned. I do my best to stay positive and not let anything shake me. Positivity will win the game!
What was the most rewarding moment in your career?
I feel rewarded seeing the growth that I have personally encountered. I have many mentors, which allows for continuous growth. It's rewarding to take on a challenge and overcome it. I never walk away from a challenging situation. I face it and make a game plan to win!
What is your involvement with the Women of Harsco?
I was hand selected by the leadership team about a year ago, as the team lead working under the Women of Harsco sponsor, which has been a huge honor. As the first ever employee resource group, we focused on the question "how can we impact others to make a difference?" to build the program. We've created a close community through a mentorship program, speaker series, and community events. It's rewarding to work side-by-side with women I look up to.
Where can we find you outside of the office?
You can find me spending time with family, and friends. They are my priority. I also have a rottweiler named Nola, who's almost as big as me that I love spending time with. Another passion of mine is health and fitness. I love cooking new recipes and working out. I used to be a workout instructor! I find that feeling good inside and out really drives me to succeed.
How do you empower other women in our industry?
I encourage women to shoot for the stars, never say never, and always push for the next challenge. The ability to conquer your next goal will push you to new heights. I think this advice applies both in a professional sense, and personal sense. We can encourage younger women to join the waste industry through continued education and making them fully aware that they can work in any industry including the waste industry. Women have the power to make such a positive impact in the waste industry and it is continuously growing with new opportunity.
What advice would you give your younger self at the start of your career?
Don't take anything too seriously. Don't let others shake you; you can listen to them, and learn from them, but trust in yourself and your abilities. Always stay true to yourself and push to reach the goals you want to achieve.