Blog
5/30/2023
Women of Harsco: Stacy Harden's Story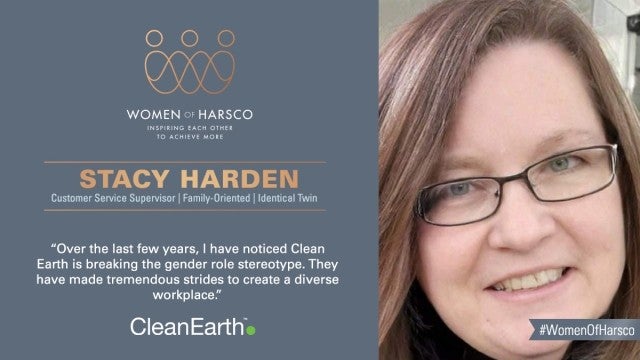 SHARE
Can you share your experience and how you got started in the industry?
I've been in the business for over 20 years, touching almost all aspects of the industry. I started out at a landfill in a small town outside of Tulsa, Oklahoma and was later approached by a customer, who asked me to work for them as a customer service representative. Through this company, and after two acquisitions, I ended up at Clean Earth; the rest is history. I have worked in several different departments over the years including customer service, government contracts, household hazardous waste, transportation, dispatch, inventory control, accounts payable, accounts receivable, and collections. When I became a Clean Earth employee, I moved to the training team but later returned to customer service as a supervisor. 
Do you think you have found your niche in customer service? 
Yes, I always seem to fall back into customer service even though I have worked in many different departments. Any time there was an opening in customer service, I was always approached and asked if I wanted to move back over. For example, while on the training team, I was approached and asked if I would like to move back into a customer success management position for big accounts. I jumped on that because I love the interaction with the customer. 
Is there a misconception people have about your role?
Yes, a lot of people think I just answer the phone, however, I do a lot more. I see the order from customer profiles, all the way to collections. I am involved from start to finish making sure every part gets done. 
What has been the most rewarding part of your career thus far?
Seeing my team grow and hearing the positive feedback they get from other departments and customers on their progress or success. When I took over, several of my team members didn't have confidence; I helped push them to work through it. When they had a meeting with a customer, I would join to support them, but ensured that they took the lead. Seeing those kudos come in from customers is incredibly rewarding. 
Are you a part of an environmental organization?
The town I live in does not have one, but I have been approaching the town council to see if we can change that. I live in a lake community so it's important to keep the pollution out of our waters. We have a lot of government-owned hunting grounds where people unfortunately dump their waste. My goal is to engage the town to clean this up and make this space for the animals. These are important things for our environment. 
Do you have a fun fact about yourself?
Most people do not know I am an identical twin, although we are polar opposite. I am a homebody and a family person and she's more of a social butterfly. 
How do you like to enjoy your time outside of work?
I love cooking and secretly film cooking videos of our family recipes for my grandchildren so that they have those memories. My husband is in IT, so he does the setup and then goes to save them on the flash drive so he can keep moving them as technology progresses. I also love being outside and gardening. 
Do you have any habits or routines that keep you going?
Yes, breathe. Stop and enjoy the little moments because those are the ones that matter. Take a chance and don't be afraid to switch lanes. I am big on organization as well; it helps me keep everything in check.
How do you empower other women in our industry?
With customer service being predominantly women, I encourage them to believe in their talent, and to gain the confidence needed for success. I have helped empower several women I work with to go back to school, and I help team members with children make a schedule to ensure a work-life balance. 
How do you think we can reach the younger generation of women to join the waste industry?
Over the last few years, I have noticed Clean Earth is breaking the gender role stereotype. They have made tremendous strides to create a diverse workplace. I believe the waste industry is a great place, and while over the years I have seen people come and go, once it gets in your blood, it is there. You may leave and go to a different company, but eventually, you will see familiar names roll back around. 
What advice would you give to your younger self at the start of your career?
Be confident in the person you are. Listen to those around you. Soak up everything. I did a lot of learning. When I started, my office was in the middle of several people who had been with the Company for years. You learn so many things by just listening to them on the phone with customers or sales. Lastly, don't sweat the small stuff because it doesn't matter.