Blog
8/04/2022
Clean Earth Named as Top 200 Environmental Firms by Engineering News-Record for 12th Consecutive Year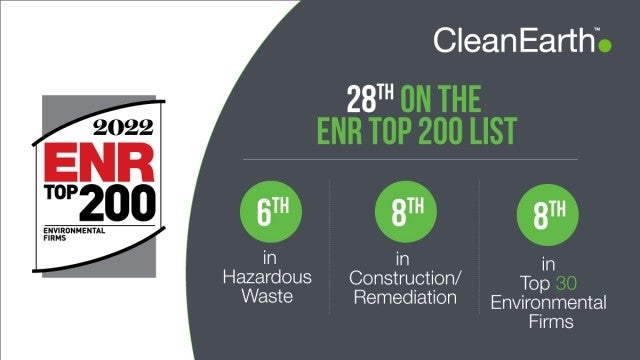 SHARE
Announced earlier today in a press release from Harsco Corporation, Clean Earth ranked No. 28 on ENR's Top 200 List, determined by the percent of 2021 gross revenue reported from environmental services. Bringing in $780.3 million in 2021, the Company claimed a spot in the Top 30 for the second year in a row, jumping up one spot from No. 29 to No. 28.
Additional rankings include:
Top Firms by Market Segment: Clean Earth placed No. 6 in Hazardous Waste

Top Firms by Type of Work: Clean Earth placed No. 8 in Construction/Remediation

Top 30 All-Environmental Firms: Clean Earth placed No. 8
A breakdown of the additional rankings:
Clean Earth ranked No. 6 in the Hazardous Waste category of Top Firms by Market Segment, up from No. 16 and No. 7, in 2020 and 2021, accordingly. In 2021, 96% of the Company's revenue was derived from the hazardous waste sector; since then Clean Earth has increased its hazardous waste services across industries including hospitality and convenience stores.
Clean Earth ranked No. 8 in the Construct/Remediation category of Top Firms by Type of Work up from No. 9 in 2021 which is the second time the Company has been listed in this category.
On the Top 30 All-Environmental Firms, the Company ranked No. 8, for the second consecutive year. In recycling over 8 billion pounds of waste in 2021, Clean Earth continues to be one of the most trusted leaders in the environmental space.
This esteemed industry ranking of the Clean Earth division recognizes Harsco Corporate's vision of deriving 90 percent of total revenue from environmental solutions.
The information, content and materials provided in this Clean Earth Named as Top 200 Environmental Firms by Engineering News-Record for 12th Consecutive Year blog and in related materials ("Content") does not, and is not intended to, constitute legal advice, nor is it prepared by lawyer or law firm or as the product of any attorney-client relationship. Content is provided "as is;" no representations are made that the content is error-free. Content is available for general informational purposes only and may not constitute the most current legal or other information. Recipients of the Content assume all responsibility and risk arising from its use and reliance upon the Contact and should contact an attorney to obtain advice before acting or refraining to act on the Content. All liability with respect to actions taken or not taken based on the Contents is hereby expressly disclaimed.