News
3/22/2022
Hazardous Waste Generator Improvement Rule Progresses into Post Comment Period for Washington D.C. and Montana
SHARE
The Hazardous Waste Generator Improvement Rule, implemented by the United States Environmental Protection Agency, amends hazardous waste regulations by allowing for flexibility in how hazardous waste is managed and categorized.
This rule has been adopted state-by-state, making it crucial for hazardous waste generators to be in the know, to remain compliant. Clean Earth provides updates on the progress of this rule in different states, monthly:
Anticipated Rulemaking by July 1, 2022
Montana:

The rule is in the post public comment period (adopting by reference.) The public meeting was held February 9, 2022. The rule is to go into effect May 2022.

Washington, D.C.:

The rule is in the post public comment period (adopting by reference). The comment period was extended to March 7, 2022. The rule is to go into effect late March or early April 2022.
Not Yet Determined
California:

The rulemaking is under Legislative Review, Section 100 Rule, for mandatory portions of rulemaking only.

The revised resubmittal occurring on January 4th, 2022, has been withdrawn to evaluate if Section 100 Rule is still applicable.
Clean Earth works closely with hazardous waste generators to limit risks and ensure comprehensive waste management, that meets safety and compliance regulations.
Learn more about our innovative disposal and recycling solutions.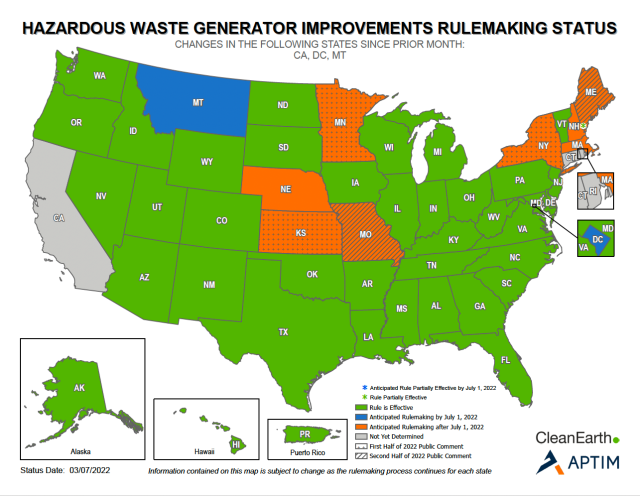 The information, content and materials provided in this Hazardous Waste Generator Improvement Rule Progresses into Post Comment Period for Washington D.C. and Montana blog and in related materials ("Content") does not, and is not intended to, constitute legal advice, nor is it prepared by lawyer or law firm or as the product of any attorney-client relationship. Content is provided "as is;" no representations are made that the content is error-free. Content is available for general informational purposes only and may not constitute the most current legal or other information.  Recipients of the Content assume all responsibility and risk arising from its use and reliance upon the Contact and should contact an attorney to obtain advice before acting or refraining to act on the Content.  All liability with respect to actions taken or not taken based on the Contents is hereby expressly disclaimed.