Blog
6/28/2022
Women of Harsco: Kristin Foldes' Story
SHARE
Our Women of Harsco program fosters a diverse, inclusive workplace aligned with our organizational mission, values, goals, business practices and objectives.
We are proud to feature Kristin Foldes, Program Manager who has been a tremendous asset to Clean Earth and embodies what our program is all about – increasing employee engagement and inspiring future leaders.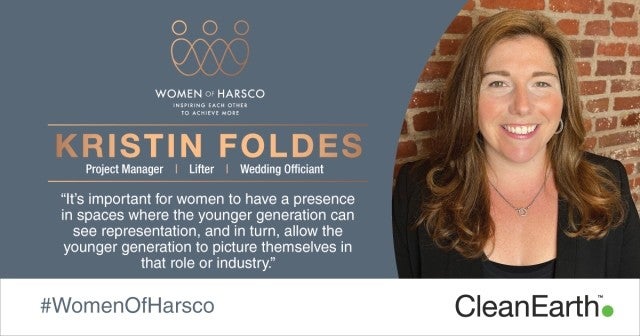 How did you get your start in the industry?
I received my degree in Civil and Environmental Engineering and took my first job at an environmental consulting firm. During my time at this firm my primary project was a landfill closure project. As the Project Manager, I oversaw the importation of soil and processed dredged material, necessary for capping the landfill for closure. Through this job, I was introduced to many people in the industry, and worked with Clean Earth among other dredge contractors. When I was looking to make a transition in my career I reached out to Clean Earth, and that's how I started my next journey in the environmental field. I have been with Clean Earth for over 8 years now.
What does your current position entail?
My current role in the dredging division, which handles the beneficial use of materials that threaten our nations waterways, includes dealing with the regulatory side of projects. I review the analytical data and determine placement options for the material. Projects can range from removing a few thousand cubic yards up to 600,000 cubic yards (~162,000 tons). Most of my work on a project occurs before there is equipment on site. The goal is to obtain the appropriate permits and approvals to ensure a project is able to flow smoothly without any interruptions in production.
What do you enjoy most about your role?
The most interesting projects for me are the complicated ones because they challenge me. Admittedly, these projects are stressful, but it is exciting when a project encompasses elements that my day-to-day job doesn't normally tackle. This could include a project that is managed under EPA oversight and contains material that must be managed very specifically or, developing an on-site sampling plan to test the material and satisfy facility requirements. When I'm able to successfully navigate through the obstacles of these more complicated projects, I feel personally rewarded in knowing that the challenges were surmounted, and the project can move forward.
Where can we find you outside the office?
I enjoy lifting, and recently was able to achieve a personal record of deadlifting 265 lbs, which was exciting for me. I'm always working on personal bests. Most of my hobbies involve being active: along with lifting, I'm a hobbyist triathlete, and I like to rock climb. I'm also a decent cook and enjoy trying new restaurants around Philly. Fun fact: I'm also a wedding officiant and have married three couples thus far.
How do you empower women in our industry?
The dredge industry consists of a small group of women, and I've been able to form meaningful connections with them. Prior to COVID-19 we made an effort to get together semi-annually. It was nice to have this group of women to help foster relationships; we all had different backgrounds but were in the same community. Building strong relationships helps the business of getting dredge from the navigable channels to the upland disposal locations. Keeping and maintaining these bonds are important.
How should we encourage the younger generation of women to join the waste industry?
It's important for women to have a presence in spaces where the younger generation can see representation, and in turn, allow the younger generation to picture themselves in that role or industry. Furthermore, the presence of a woman, in any role, shows the younger generation that women can hold any type of job.
What advice would you give your younger self?
Don't take things personally. At the end of the day, we're all trying to get a job done. Just because there's conflict, doesn't mean there's a personal issue; people have conflicting ideas of how to complete a job based on their experience.